Come sempre accade l'etimologia di un nome ne è in certo qual modo una specie di scavo archeologico in cui si può vedere la stratificazione dei vari significati che si sono sedimentati in quel nome (nonché delle menti e dei mondi che hanno generato quel determinato nome). Ci fornisce una specie di evoluzione del significato attraverso la sua storia ancorata ai contesti sociali che lo hanno inglobato. Non è quindi un caso che il nome di Manhattan derivi da una storpiatura della parola Mannahatta che in lingua unami significa "isola con molte colline" ( Raymond G. Gordon, Ethnologue: Languages of the World, Dallas, Summer Institute of Linguistics, 2005). L' unami era la lingua dei nativi americani presenti nel territorio dell'attuale New York e di zone limitrofi allorquando arrivarono i primi europei. La lingua si estinse alla fine del XIX secolo. Apparteneva alla famiglia delle lingue algonchine ed era parlata dai nativi americani di etnia Lenape (etnia altrimenti detta Delaware). Le lingue non sono mai né stabili né "pure" e nel momento in cui gli europei iniziarono a conoscere l'unami essa aveva acquisito anche alcune parole della lingua olandese parlata proprio dai primi europei insediatisi alla foce del fiume Hudson.
Proprio la lingua ci introduce la storia di Manhattan, non tanto per l'etimologia che essa ci offre quanto piuttosto perché ci rende partecipi di una delle tante incomprensioni frutto dell'incontro tra europei e nativi americani che hanno plasmato il nuovo mondo (questo sia nel nord che nel centro che nel sud America). Ma prima di tutto, chi è stato il primo europeo a prendere fisicamente contatto con l'isola di Manhattan?
Costui è Giovanni da Verrazzano, esploratore e navigatore italiano nato (per l'appunto) nell'omonimo castello situato nei dintorni di Greve in Chianti. Località meno nota di New York ma non per questo meno importante. C'è forse un pizzico di esagerazione in tale affermazione, ma non troppo se considerate le conseguenze storiche che i commerci medievali e rinascimentali hanno prodotto nell'ambito dell'economia globale (L. Massi, Il vino nel Rinascimento Toscano, 2016). Greve in Chianti è uno dei centri principali se non il principale della regione per l'omonimo vino così richiesto ancora oggi anche a New York. Il personaggio in questione è ovviamente un odierno vanto cittadino, ricordato a tutti i paesani e a tutti gli avventori dalla statua in bella vista per chiunque passi o si rechi appositamente a Greve.
Non si sa esattamente quando nacque Giovanni da Verrazzano (più o meno intorno al 1485) e coerentemente con la data di nascita non si sa nemmeno quando esattamente morì (intorno al 1528). Quello che si sa per certo è che oltre a nascere nel castello di Verrazzano in Chianti ed oltre a morire presso le isole Abaco alle Bahamas, egli fu uno dei grandi esploratori italiani che solcarono l'oceano mossi dall'indomabile ricerca del nuovo, dell'avventura, del diverso o semplicemente perché la propria terra gli stava troppo stretta. O forse un poco per ognuna di quelle ragioni più tante altre insieme. Non lo sapremo mai. Di certo è che sebbene nacque da una ricca famiglia fiorentina egli scelse di diventare esploratore e per conto del re francese Francesco I esplorò le coste atlantiche del nuovo mondo settentrionale. Così fu il primo europeo ad approdare in quella che oggi conosciamo come la baia di New York. Era il 17 aprile del 1524. Per una così prolifica impresa forse la ricompensa dovuta sarebbe stata ben altra di quella di morire divorato dai cannibali presso le Bahamas. Così almeno riportano certe fonti. Al tempo né la sua scoperta né la sua morte lo resero celebre. Ogni esploratore ha lasciato il suo nome alla toponomastica dei luoghi attraversati, ma non fu così per il fiorentino Giovanni. Lo stesso fiume che scorre attorno all'isola di Manhattan e che Verrazzano per primo avvistò e annotò con l'esatta ubicazione cartografica, prese poi il nome dell'esploratore inglese Hudson che lo vide non prime del 1609. Se in vita non ebbe i meriti che gli sarebbero stati dovuti attribuire, a prescindere da quel che ne sapranno mai i suoi genitori parenti ed amici, attualmente gli è stato dedicato il ponte che collega l'isola di Staten Island con l'altro borough newyorkese di Brooklyn.

Inoltre il 17 aprile di ogni anno viene celebrato il Verrazzano Day sia a New York sia al castello di Verrazzano di Greve in Chianti. Un brindisi di buon Chianti alla sua memoria e alla sua impresa. Riguardo alla sua morte, visto come si dice che avvenne, non credo che avrebbe desiderato che la si festeggiasse in pompa magna.
Ad ogni modo i suoi sforzi furono piuttosto vani. Sebbene Giovanni da Verrazzano scoprì l'isola alla foce del fiume Hudson già nel 1524 e sebbene se ne impossessa in nome del re di Francia Francesco I, che gli aveva commissionato il viaggio, il sovrano francese non trovò particolarmente utile quel territorio così lontano. Da Parigi egli asseriva che si trattava di una foresta abitata da selvaggi sulla quale non erano presenti né minerali preziosi né altre forme di ricchezze. Probabilmente l'amico di Leonardo da Vinci e amante d'arte Francesco I di Francia non aveva tutti i torti per quelle che erano le condizioni di inizio XVI secolo. Ma le condizioni erano destinate a cambiare, soprattutto in Europa.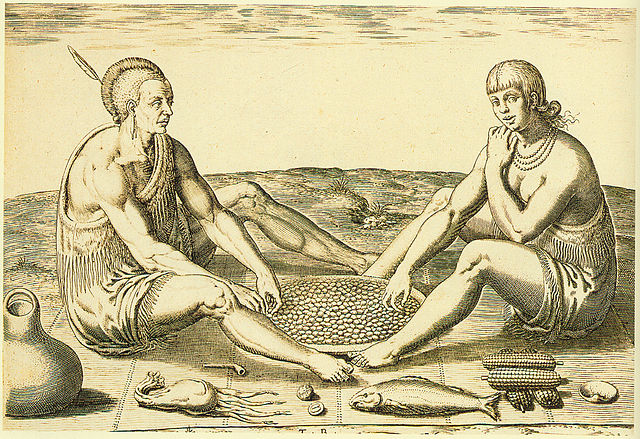 Al tempo gli abitanti della zona erano una tribù del popolo Algonchino, una tribù che oggi sopravvive nella riserva di Shinnecook a Long Island. Manhattan conserva ancora fisicamente alcuni tratti del loro insediamento. Si pensi al fatto che il percorso dell'odierna Broadway ricalca abbastanza esattamente un tracciato da loro segnato. Abitavano principalmente in un villaggio chiamato Sapohanikan, locato dove attualmente sorge il Greenwich Village. Per avere maggiori informazioni riguardo i nativi americani della zona (e non è difficile rispetto a quanto da me qua scritto) si veda https://indianiamerica.it/tribu-indiani-d-america/algonchini e soprattutto si consulti i seguenti link rimandanti ad un portale a mio parere fatto molto bene riguardante il mondo dei nativi americani e del "farwest" in generale: https://www.farwest.it/?tag=algonchini (questo parla degli Algonchini in generale), http://www.farwest.it/?p=2760 (questo parla specificatamente dei nativi di Long Island).
L'area quindi fu sostanzialmente ignorata dagli europei. Condizioni climatiche poco favorevoli, scarsa ricchezza di materie prime, nativi già ben radicati sul territorio. Niente di così appetibile per incentivare dei nuovi coloni. Questa era ancora la condizione quando l'esploratore inglese Henry Hudson descrisse in maniera dettagliata la zona di Manhattan. Hudson fu indubbiamente un esploratore caparbio e instancabile, sicuramente ben più del suo equipaggio visto l'epilogo. La sua stessa vita è un monumento alla perseveranza, anche se la fine non fu delle più felici. In questo è associabile a Giovanni da Verrazzano, ma a differenza di quest'ultimo il suo nome riecheggia nelle vaste aeree del nord est del continente americano.
L'ossessione di Hudson era di scovare e raggiungere il famoso e altrettanto sfuggente Passaggio a Nord-Ovest, per raggiungere l'Asia attraverso il Mar Glaciale Artico ed il Polo Nord. Era il sogno di ogni esploratore e di ogni membro ed addetto di qualsiasi compagnia commerciale europea. Hudson si dedicò a questo obiettivo con una perseveranza ammirabile. Una perseveranza ammirata da tutti ma non dal suo ultimo equipaggio. Ci provò per ben due volte per conto della Compagnia di Moscovia, la quale dopo il secondo fallimento decise di rinunciare a tentare ancora ritenendo l'impresa impossibile. Allora l'instancabile Hudson convinse la Compagnia Olandese delle Indie Orientali, e così nel 1609 non trovò il tanto agognato passaggio a nord ovest ma trovò la baia che poco meno di un secolo prima era stata scoperta da Giovanni da Verrazzano. Risalì per un certo tratto il fiume che lì vi sfociava e che da quel momento prese il suo nome. L'Inghilterra non prese bene questa sua spedizione per conto dei suoi rivali in affari, gli olandesi. Così dopo qualche tempo di prigione fece risvegliare ad Hudson un po' più profondo senso di patriottismo.
Nel 1610 Hudson preparò un altro viaggio da compiere questa volta sotto la bandiera inglese. La coronà approvò e due potenti compagnie britanniche (la Compagnia della Virginia e la Compagnia britannica delle Indie orientali) finanziarono l'impresa. Il 25 giugno fu il primo europeo (ad esclusione dei vichinghi che però non furono altrettanto fortunati a tramandare la loro impresa) a raggiungere lo Stretto di Hudson presso la punta settentrionale della Penisola del Labrador. Seguendo la costa meridionale dello stretto, il 2 agosto la nave navigò in una grandissima baia che da quel giorno tutti noi conosciamo come Baia di Hudson. L'indomabile esploratore impiegò i mesi successivi a mappare ed esplorare le coste orientali. Tutto molto bello. Poi sopraggiunsero i problemi. A novembre la nave rimase intrappolata nei ghiacci nella Baia di James, cosicché l'equipaggio sbarcò a terra per passare l'inverno. Nella primavera del 1611 quando ormai i ghiacci si erano ritirati e la nave era ormai libera per salpare, l'indomabile esploratore avrebbe voluto continuare la sua ricerca ma lo stanco e stremato equipaggio preso da nostalgia era di altro parere. La pacata discussione terminò con un agreement tra gentlemen. L'equipaggio se ne tornava a casa in nave e Hudson, suo figlio e alcuni altri suoi fedelissimi furono abbandonati alla deriva su una piccola barca. Nessuno li vide più. Forse nessun nome dato da un esploratore fu più meritato del fiume e della baia di Hudson che portano il nome di colui che per la loro esplorazione ha sacrificato se stesso e suo figlio. Nell'immagine sotto il dipinto del 1881 di John Collier contenuto alla Tate Britain in cui l'artista immagina l'abbandono del famoso Hudson da parte degli anonimi marinai.
Ad ogni modo l'aerea nonostante gli sforzi di Hudson rimase sostanzialmente ignorata dalle potenze europee. Non solo la baia di Hudson ma anche la ben più (successivamente) prolifica baia con l'isola di Manhattan a signoreggiarvi. Proprio qua però Hudson durante la sua esplorazione aveva barattato con gli indiani Lenape e Mohicani della zona, scambiando perline e oggetti in metallo con pellicce di castoro. Fu proprio questo inizialmente piccolo commercio che spinse gli olandesi ad installare una colonia nella zona. Infatti non molto tempo dopo la morte di Hudson i Paesi Bassi rivendicarono il possesso di quell'area insediandovi una colonia con il nome di Nieuw Amsterdam, Nuova Amsterdam, la futura New York. Pare che Hudson stesso abbia chiamato Staten Island (in olandese Staaten Eylandt) l'omonima isola che fa parte di New York, in onore degli Stati Generali (parlamento) dei Paesi Bassi. Visto che poco dopo le prigioni inglesi risvegliarono in lui un sano patriottismo, se ne guardò bene di diffondere quell'informazione nella propria madre patria. E d'altronde su ciò non si può nemmeno esser sicuri anche perché i motivi commerciali soffiavano alla stessa maniera sul patriottismo olandese. Quello che si sa è che i rapporti di Hudson, sul suo viaggio per conto degli olandesi, sono andati persi, sebbene un resoconto fu fatto da Johannes de Laet nel suo libro Nieuwe Wereldt ofte beschrijvinghe van West-Indien (Il Nuovo Mondo o la descrizione dell'India Occidentale) del 1625.
All'epoca comunque del primo insediamento stabile olandese, il commercio delle pellicce era molto remunerativo in Europa. Se ne avvantaggiavano principalmente le regioni del Mar Baltico e della Russia. Il commercio delle pellicce era sempre stato uno dei commerci privilegiati della zona baltica e della Russia, ma è certo che il forte abbassamento delle temperature alla fine del Medioevo ne incrementò l'importanza. Anzi con il perdurare di tale situazione, e con il successivo relativo peggioramento, i mercanti furono spinti a cercare nuove zone di approvvigionamento di animali da pelliccia. L'Europa era entrata in un periodo in cui il clima si era irrigidito, da qui la maggior richiesta di pellicce. Quindi quella zona sostanzialmente fino ad allora ignorata dagli europei, se non addirittura evitata, grazie ad un peggioramento climatico iniziò ad avere un certo grado di appetibilità commerciale. Fu proprio questo periodo definito come la piccola era glaciale che schiuse gli occhi dei mercanti olandesi su queste terre inospitali. Le pellicce sotto l'incalzare del freddo erano assai richieste; la Russia e i Paesi baltici un pò per l'eccessivo sfruttamento delle loro risorse, un poco per tanti altri problemi che qua non elencheremo, non potevano da sole soddisfare la richiesta proveniente dall'Europa. A ciò si aggiungeva anche la voglia di maggiori profitti dei commercianti olandesi ed inglesi in cerca di mercati in cui trattare da un punto di forza maggiore rispetto alle trattative che si potevano condurre in Russia. I motivi furono ad ogni modo molteplici (parleremo anche di altri), quel che non va sottovalutata è la richiesta di pellicce. Così richieste che gli animali da pelliccia nel nord Europa e soprattutto in Russia iniziarono a scarseggiare. D'altronde non si trattava di un insolito e passeggero freddo venticello. Per rendere l'idea si pensi che il Tamigi tra il 1564 e il 1814 gelò d'inverno almeno venti volte. In quel periodo si ghiacciò anche un fiume come il Guadalquivir notoriamente poco avvezzo al ghiaccio. Il nome arabo del Guadalquivir vi ricorda che questo fiume sta in Andalusia (ma voi già lo sapevate). Ebbene si ghiacciò persino il Guadalquivir a Siviglia nell'inverno del 1602-3 (C. Ponting, Storia Verde del Mondo, 1992). Non per nulla i castori che erano ben presenti nella baia di New York prima dell'arrivo degli europei ben presto si estinsero. Il commercio della loro pelliccia può essere un motivo più plausibile di un loro suicidio di massa. Questi animali che vivevano in grandi colonie stabili praticamente si estinsero in soli trenta anni, tra il 1610 e il 1640. Riferimenti e tempistiche non casuali.
Fu quindi il commercio delle pellicce che aprì la via alla colonizzazione europea. E la nazione europea più intraprendente del periodo era indubbiamente l'Olanda. Di sicuro i Paesi Bassi della prima età moderna, e l'Olanda ancor più nello specifico, costituivano un territorio dove regnava un grande fermento. Come sempre il fermento produce anche instabilità (sociale, politica e di ogni sorta compresa quella individuale) ma risulta sempre prolifico di ciò che verrà successivamente ammirato dagli esseri umani. Le premesse di tale fermento erano molteplici, non ultime quelle economiche. L'economia non è solo finanza. Difatti tra le premesse del fermento che attraversò i Paesi Bassi nell'età moderna non è da sottovalutare l'apporto di popolazioni "cacciate" da altri territori. Si veda per esempio come queste terre furono pronte ad accogliere gli ebrei espulsi per motivi religiosi dalla Spagna e qua accolti con tutte le loro competenze e know how. Si pensi solamente che il filosofo Spinoza discendeva da questi ebrei mandati via, seppur il suo rapporto con la comunità ebraica fu a dir poco problematica. Eufemismo. Ma andar a ricercare le cause e le premesse per cui un territorio né vasto né ricco divenne così importante per la storia mondiale è sempre difficile. Le cause si mischiano con le conseguenze, danzano insieme mischiandosi in maniera difficilmente districabile. Ad ogni modo noi qua parliamo delle premesse del primo centro abitato di Manhattan e a ciò torniamo. Basti solo ricordare che gli olandesi fondarono nel Nord America quella che era conosciuta come Nuova Olanda, ovvero una colonia sorta in seguito alla concessione fatta nel 1621 dal governo olandese alla Compagnia Olandese delle Indie Occidentali che riguardava il territorio corrispondente circa agli attuali Stati di New York e New Jersey. La Nuova Olanda era stata quindi creata e organizzata dalla Compagnia della Nuova Olanda la quale ottenne per tre anni il monopolio del commercio tra il 40° e il 45° parallelo. Questa compagnia creò quindi nel 1614 l'avamposto di Fort Nassau presso l'odierna Albany. Tuttavia un vero insediamento non iniziò fino al 1624, quando la Compagnia olandese delle Indie occidentali, sorta nel 1621, inviò coloni a Fort Nassau e sull'isola di Manhattan, territorio che acquistò dagli autoctoni nel 1626 fondandovi Nuova Amsterdam.
In funzione di ciò che si diceva poc'anzi è curioso che il fondatore di Nuova Amsterdam fu il figlio di immigrati valoni (Belgio) espulsi proprio da quegli spagnoli che in quegli anni dominavano il centro e il sud America. Oltre a dominare gran parte dell'Europa compreso l'attuale Belgio. Fu proprio questo figlio di esuli che si guadagnò la fiducia della Compagnia Olandese delle Indie Occidentali per fondare una nuova colonia. Fu proprio lui che scelse Manhattan come sede della colonia adatta al commercio delle pellicce.