Al contrario di molte nuove colonie, Nuova Amsterdam nacque sotto l'egida della legalità. Almeno questa era l'intenzione di Peter Minuit che ci viene tramandata. Sembra infatti che nel 1624 Peter Minuit, il Direttore Generale della colonia dei Nieuw Nederland (Nuova Olanda) per conto della Compagnia Olandese delle Indie Occidentali, abbia acquistato legalmente i territori dalle popolazioni locali. Egli aveva individuato nell'isola di Manhattan un ottimale punto d'imbarco per le spedizioni di merci in Europa. Così dando seguito alla politica olandese che era quella di richiedere l'acquisto formale di tutte le terre che si andava colonizzando, stipulò un formale atto di acquisto (compra-vendita) di tale territorio. Va rilevato un piccolo problemino. Il principio della proprietà della terra non era qualcosa che apparteneva al bagaglio culturale dei nativi americani, il che ovviamente provocò delle incomprensioni. Come è facile capire. Ad esempio, la gente a cui Minuit si rivolse per "comprare" Manhattan non viveva sull'isola, e probabilmente questi gli vendettero una quota dei diritti di caccia.
In verità è molto difficile acquistare qualcosa da qualcuno che non sa di possederla. Mi spiego meglio. Il capitalismo, nei suoi pro e nei suoi contro, è stata una conquista dell'Europa Occidentale che non apparteneva al bagaglio culturale di molte altre civiltà. Men che meno ai nativi del nord America. Il possesso della terra era una questione di difficile comprensione per i nativi americani. Quello che i nativi comprendevano era a chi spettava la gestione di un territorio. Quando inizialmente parlavo delle tante incomprensioni di cui il Nuovo Mondo è sia frutto che conseguenza, lo stesso evento della fondazione di quella che sarà New York non fa eccezione. Anzi. D'altronde stiamo parlando di un nuovo, sterminato continente scoperto da chi non sapeva di averlo scoperto, ma che anzi aveva ben chiaro in testa dove fosse arrivato e cosa avesse trovato. Ovviamente sbagliando, ma sbaglia chi le cose le fa e più spesso chi le fa per primo. L'incomprensione è forse la parola insita nella stessa fondazione di New York e ancor più di Manhattan che ne è il primo nucleo abitativo. Propenderei a pensarla alla stessa maniera di coloro che sostengono che forse è più probabile che ciò che Minuit avesse acquistato fosse ben altro del possesso di terra. E questo indipendentemente dal fatto che Minuit ne fosse consapevole o meno. Forse sarebbe meglio dire che è più probabile che ciò che i nativi americani Lenape avevano venduto agli olandesi fosse una quota dei diritti di caccia su quel territorio. Non il territorio medesimo. D'altronde la gente a cui Minuit "comprò" Manhattan non viveva sull'isola, e ciò rafforza ancor più l'idea di tale ipotesi.
Ad ogni modo abbiamo alcuni documenti da cui si può dedurre quanto fosse costato il territorio su cui sorse il futuro ombelico del mondo. Provate ad indovinare. Quanto costò il territorio su cui sorse la Nuova Babilonia del mondo Contemporaneo? Provate a pensare quanto è costato alla Compagnia Olandese delle Indie Occidentali l'acquisto del territorio di New York. Risposta: 60 fiorini. Diciamo meglio: quel territorio era stato comprato da Minuit con varie tipologie di beni per un equivalente di 60 fiorini. Questo almeno è quanto risulta da una lettera spedita il 5 novembre 1626 dal mercante olandese Pieter Schagen ( Michelle Nevius e James Nevius, Inside the Apple: A Streetwise History of New York City, Simon and Schuster, 2009). In questa pagina web oltre ad una breve spiegazione trovate anche tradotta in inglese la lettera originaria: https://web.archive.org/web/20100113212452/http://www.kb.nl/coop/geheugen/extra/tentoonstellingen/atlanticworldEN/tentoon5.html
Va detto che dire che il costo era l'equivalente di 60 fiorini vuol dire tutto e non vuol dire nulla. Ma c'è chi si è divertito a soddisfare la curiosità di quelli che come me avrebbero voluto confrontare 60 fiorini olandesi del 1624 con un valore monetario attuale. Si sono divertiti in tanti. Una delle voci più attendibili in materia è però quella dell'Institute for Social History of Amsterdam che nel 2006 calcolò che i 60 fiorini di Peter Minuit sarebbero stati equivalenti a 678,91€. Per rimanere in termini comparativi statunitensi si potrebbe dire che Manhattan è stata acquistata con l'equivalente di un bel buffet di hotdog.
Ad ogni modo al di là dell'effettivo costo credo che realmente Minuit abbia avuto l'intenzione di acquistare legalmente le terre. Sicuramente per seguire le indicazioni governative che volevano darsi un tono di legalità nei confronti di possibili nuovi coloni provenienti da altri stati europei. Ma credo anche che ciò avvenne per un'indole di "giustizia" (per lo meno della sua giustizia) che il figlio di due ex emigranti portava in dono per impulso familiare iniziale. Dico ciò perché quando successivamente Minuit se la passò male per i rapporti tesi con i coloni di Nuova Amsterdam e se ne tornò in Europa, fu di lì a poco precettato dalla monarchia svedese per fondare una nuova colonia che per monumento alla fantasia fu chiamata Nuova Svezia. In America è sempre "tutto nuovo". Anche in questo caso egli procedette acquistando la terra dai nativi con la medesima maniera con cui aveva acquisito il territorio di Nuova Amsterdam (ed anche questa volta con tutte le ambiguità del caso).
La colonia di Nuova Svezia non fu eretta molto distante dalla precedente. Fu fondata sulla foce del fiume Delaware nei pressi dell'odierna città di Wilmington. Va detto che la storia dei personaggi legati alla genesi di Manhattan e di New York non fu molto fortunata. Si è già visto di Verrazzano e Hudson. Minuit morì a Saint Kitts, nelle Antille, in seguito ad un uragano. Vi si era recato per cercare, come sempre, di far proliferare l'economia della colonia da lui gestita attraverso il commercio dell'unica fonte di ricchezza della Nuova Svezia, il tabacco. Se c'è una cosa che ci insegnano le vite di questi primi esploratori legati a Manhattan è che l'abnegazione è una gran bella cosa, ma a volte sarebbe meglio dargli un limite. Ad ogni modo la seconda colonia fondata da Minuit non rimase a lungo sotto l'egida svedese. Essa fu ben presto conquista dalla sua prima colonia ed entrambe furono poi conquistate dagli inglesi dopo soli due anni dalla precedente reunion. Con buona pace dell'anima di Minuit, anche se non credo che gliene sarebbe fregato qualcosa del cambio di gestione.
Inizialmente anche da un punto di vista demografico le cose in Nuova Olanda non andavano proprio in maniera idilliaca. La Nuova Olanda, e con essa Nuova Amsterdam, stentavano a diventare una colonia di popolamento proprio perché la motivazione della loro fondazione ne costituiva anche il suo limite. In Nuova Amsterdam infatti il commercio delle pellicce costituiva la principale opportunità economica. I nativi cacciavano e i pochi commercianti acquistavano con l'intenzione di lauti profitti sul mercato europeo. Ciononostante attraendo i suoi pochi abitanti da una molteplicità di nazioni europee, Nuova Amsterdam prima e Nuova York successivamente si caratterizzeranno fin da subito come un microcosmo multietnico. Un'impronta che rimarrà indelebile sulla futura città. E sugli stessi Stati Uniti d'America. La libertà di commercio andava di pari passo con le altre libertà individuali (almeno nelle intenzioni) e ciò era un bell'incentivo alle differenti provenienze etniche dei primi abitanti europei di Manhattan.
La mappa sopra ci mostra oltre al dettaglio della comprensione geografica di quel territorio, anche e soprattutto ciò che si ricercava su quel territorio. Pellicce. Questo a riprova se ci fossero dubbi che ciò costituiva la reale appetibilità di quelle terre che senza la piccola era glaciale sarebbero state forse destinate a vivere ai margini della globalizzazione avviata dagli europei in età moderna. Non tutti i cambiamenti climatici sono stati negativi per tutti i contesti. Ma su ciò non so quanto possano essere d'accordo i nativi americani della zona.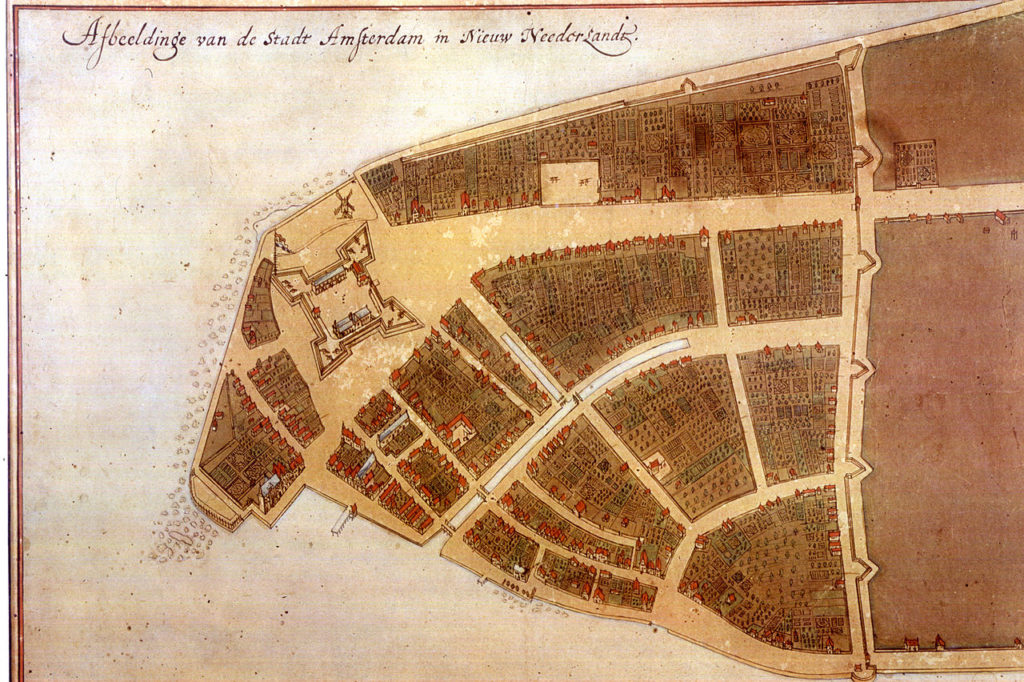 Va detto che nella fondazione ideologica degli USA il transito di europei per la baia di New York necessita anche di qualche altra premessa oltre a quella prettamente economica. Il concetto va un po puntualizzato con qualche altro esempio. Almeno uno, ma di quelli esplicativi. Ovvero: era il 1620 quando gli ormai famosi Padri pellegrini fuggirono dall'Inghilterra a bordo della nave Mayflower in cerca di nuove terre dove praticare liberi la loro confessione religiosa. La ricerca di un nuovo mondo, letteralmente di un nuovo mondo, non può prescindere anche dalla ricerca spirituale di un nuovo mondo. non è un gioco di parole. La fede fu indubbiamente uno dei motori fondamentali per quegli uomini che si imbarcarono per un viaggio difficile verso una terra sconosciuta e per molti aspetti ostile. Si dovrebbe sempre tenere a mente questa motivazione al pari di quelle economiche.
Un'altra cosa che in questo nostro percorso non ci abbandona mai e che terrei a sottolineare, è la connessione con l'Italia. La nave Mayflower si chiamava così proprio per un richiamo ad una città del Bel Paese. Mayflower era infatti il nome dato in Inghilterra ad una nave che recava come simbolo il "fiore di Maggio", ovvero il giglio. Il fiore per antonomasia, tra gli altri, di Firenze. La nave infatti era appartenuta ad una nota famiglia fiorentina, i Guicciardini. La scoperta dell'America ebbe notevoli ripercussioni anche sugli orizzonti commerciali del Mediterraneo ed in particolar modo di molte città italiane. Spesso negativamente. Spostò i commerci in modo definitivo dal mediterraneo all'Atlantico, avvantaggiando le regioni che si affacciavano su quell'oceano a scapito delle regioni europee meridionali. Così il caso volle che fu proprio quella nave ormai inutile ai mercanti fiorentini che arrivò al gruppo di puritani in fuga dall'Inghilterra e diretti verso il Nuovo Mondo. Il gruppo di ferventi credenti attraversò con tale nave la baia di New York e tentò di risalire il fiume Hudson, ma poi si fermarono nei pressi di Capo Cod (informazioni tratte da: Eugene A. Stratton, Plymouth Colony: Its History u0026amp; People, 1620–1691, Salt Lake City, Ancestry Incorporated, 1986, p. 20).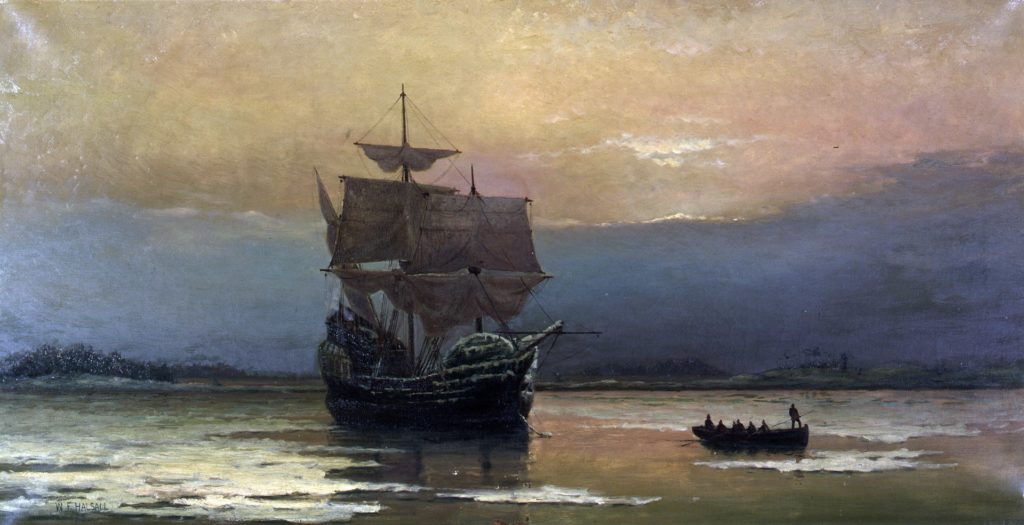 L'isola di Manhattan quindi rimase libera per il di poco successivo insediamento olandese guidato da Minuit. Ma perché la baia alla foce dell'Hudson che era stata precedentemente scartata da tutti, francesi, inglesi e dagli stessi olandesi, fu poi scelta da Minuit per fondare la nuova colonia di Nuova Amsterdam? Perché egli capì che la zona era il luogo ideale per i commerci delle pelli di castoro. I padri pellegrini erano partiti con l'idea di seguire la loro fede e di fondare la loro materiale sussistenza nel produrre tè e caffè. Altre colonie inglesi, come la prima di James Town, trovarono la loro motivazione di esistere nelle piantagioni di tabacco. D'altronde lo stesso Minuit morì proprio mentre si era recato a sud nelle Antille per curare tali commerci. Ma Manhattan era perfetta per il commercio delle pellicce di castoro commerciate con i nativi. L'isola aveva facile accesso al mare ed inoltre garantiva una linea di via libera dai ghiacci al posto della regione dove avvenivano gli scambi di pelle di castoro, all'incirca corrispondente al territorio su cui oggi sorge Albany. Proprio in funzione di ciò Albany fu fondata nel 1614, là i cacciatori degli Indiani americani rifornivano gli europei di pelli di castoro in cambio di beni commerciali importati dal mercato europeo e collane di conchiglie (Wampum) che ben presto divennero proprio la prerogativa degli olandesi stabilitisi a Long Island. Così quando nel 1621 fu fondata la Compagnia Olandese delle Indie Occidentali tutto sembrava ormai predisposto al sorgere di qualcosa di duraturo e su ottime basi. Inoltre tra il 1621 e il 1623 furono emanate delle ordinanze le quali chiesero ai commercianti privati di lasciare il territorio, aprendolo così alla colonizzazione da parte delle Province Unite (guidate dall'Olanda) e da altri commercianti. In precedenza, nel corso del periodo commerciale di privati, solo la "Legge della nave" era stata applicata. Come ricordavo in precedenza il comemrcio delle pelli di castoro era così florido in zona che gli stessi castori praticamente furono portati all'estinzione già verso il 1640.
E così nel 1624 Peter Minuit acquistò l'isola per conto degli olandesi dando inizio alla colonizzazione. La colonizzazione iniziò nel 1626, quando 30 famiglie olandesi e valloni si insediarono sull'isola di Manhattan e nell'area del fiume Delaware. 30 famiglie che iniziano la colonnizzazione di un ambiente selvaggio ancora del tutto da domanre. A volte i numeri impressionano non per la loro grandezza bensì per la qualità che presumibilmnet devono contenere. nasce così il forte che prende nome di Nieuw Amsterdam che rimarrà in eredità alal città. Inoltre si costruisce anche una palizzata per difendersi dalle aggressive ed in espansioni colonie inglesi del new England. Tale palizzata darà il nome ad una delle vie più importanti per lo spostamento di capitali, e quindi non solo, del nostro mondo contemporaneo: Wall Street.
Bloccata dalla presenza britannica a Nord, la colonia si espanse verso Sud, strappando agli svedesi il Delaware nel 1655. Nel 1664 fu, a sua volta, venne occupata dall'Inghilterra, iniziando una serie di veloci e alterni passaggi di consegna fino a quando gli olandesi cedettero la colonia definitivamente nel 1674 dopo averla riconquistata l'anno prima
Non è però banale sottolineare quell'indole che precedentemenet si appellava questa colonia, ovvero quella vocazione alla libertà individuale sotto molti punti9 di vista. Diciamo che quell'indole così persistente nella storia di new York e nella storia statunitense è anche spesso accompagnata alla parallela e sorella indole dis fruttare un pochino ipocritamente la ricerca della libertà degli altri. Ma su questo nessuna sorpresa e nessuno scandalo. E' una tendenza tipica di ogni nazione 8in senso politico ed in seso etnico) che abbia avuto un periodo di dominio più o meno lungo. Dalla libera e democratica Atene contro la militare be oligarchica Sparta, alla civilizzata Roma contro gli incivili barbari. In questo forse il nostro senso critico dovrebbe essere riassorbito da un apiù pacata e "oggettiva" analisi pragmatica dei contesti storici ne geopolitici. Ammetto che almeno per quanto mi riguarda tale punto di vista a volte diventa duro da sostenere. Questo riferimento alla libertà individuale a cui è votato il territorio di Manhattan, e a volte alla sua ipocrita salvaguardia, è dovuto al primo passaggio di consegne dell'isola da mano olandese a quella inglese. Nel 1664 infatti una flotta britannica entrò nel porto e catturò la colonia. Destò sorpresa la minima resistenza opposta dalla colonia agli invasori. Il motivo forse risiedeva nell'impopolarità del governatore coloniale, Peter Stuyvesant. La sua impopolarità era in parte dovuta al fatto che cercò di restringere la libertà religiosa in un luogo sorto anche come simbolo di libertà religiosa per coloro che dal luogo di provenienza erano "poco" considerati anche per il loro credo. La protesta di Flushing del 1660 obiettò al governatore la messa al bando dei Quaccheri come a una violazione dei residenti in quanto cristiani e cittadini olandesi. La protesta non è banale se si tiene in considerazione le guerre di religione che devastarono l'europa nella prima metà del '600 ed in particolar modo l'area di matrice germanica. Si pensi che la guerra dei trenta anni terminò solo nel 1648, ovvero soltanto 12 anni prima.
Con il 1664n si dà quindi inizio alle danze con il ppassaggio di consegna di manhattan varie volte tra le mani olandesi ed inglesi. La colonia venne infine ceduta all'Inghilterra come previsto dal Trattato di Westminster del 10 novembre 1674. Il cambio di consegna porta in grembo anche il cambio di nome. Così in onore di giacomo Stuart, Duca di York e Albany e re d'Inghilterra dal 1685 con il nome di Giacomo II, la chiamano New York. E quella palizzata eretta dagli olandesi proprio per difendersi dagli inglesi a cui ci si riferiva poco sopra, venne chiamata dagli inglesi wall, dà il nome alla strada che la costeggia e che oggi è Wall Street.
La dominazione inglese durò fino all'ottenimento dell'indipendenza delle colonie, quindi ufficialmente fino al 3 settembre 1783, che segnò la data di nascita degli Stati Uniti d'America. Questo periodo, lungo poco più di un secolo, vide un notevole sviluppo della città, che divenne un importante porto commerciale e registrò un notevole incremento della sua popolazione di origine europea, al contrario di quella indigena che declinava costantemente. Il salto vero e proprio sotto il profilo demografico si ebbe fra il 1874 ed il 1898 quando fu deciso di allargare la città assorbendo gli altri quattro distretti.
Come vedete in questo profilo storico vi ho narrato più i presupposti e i primi anni della nascita di new York rispetto a tutto ciò ch ne deriva. Questo epr un motivo fondamentale. La storia a New York ha lasciato tracce tangibili e visibile nelle sue archietture. La stessa città all'apparenza è come una sezione di una montagna in cui ogni strato cronologico è facilmente riconoscibile. Capirete meglio quello che vi sto dicendo quando leggerete la successiva parte: La Nascita della Metropoli Moderna – Costruire in Altezza.
Prima però una breve premessa di "geografia fisica" alla base dello sviluppo di Manhattan (e di conseguenza di New York)