A mano a mano che certe zone di New York, come Midtown o il Financial District, cominciavano ad assomigliare a montagne create dall'uomo, crescevano le preoccupazioni in merito all'impatto dei grattacieli. Questi edifici altissimi proiettavano delle ombre lunghe e scure. Dai marciapiedi, le strade cominciavano a sembrare sempre più delle gole strette e profonde, un effetto accentuato dalla neve, dalla nebbia o dalle piogge. Per contrastare questo fenomeno inquietante , a partire dal 1916 la legiuslazione urbanisticamunicipale stabilì che la struttura di questi enormi palazzi doveva restringersi a mano a mano che questi crescevano in altezza ( https://www.6sqft.com/the-highlife-architecture-spectacle-and-art-deco-new-york/ ). È per questo che i profili dei grattacieli assomigliavano alle ziqqurat o a delle torte matrimoniali allungate (es. Empire State Building).Guardate in proposito le immagini qua sotto, notate come questi gradoni sono altamente evidenti.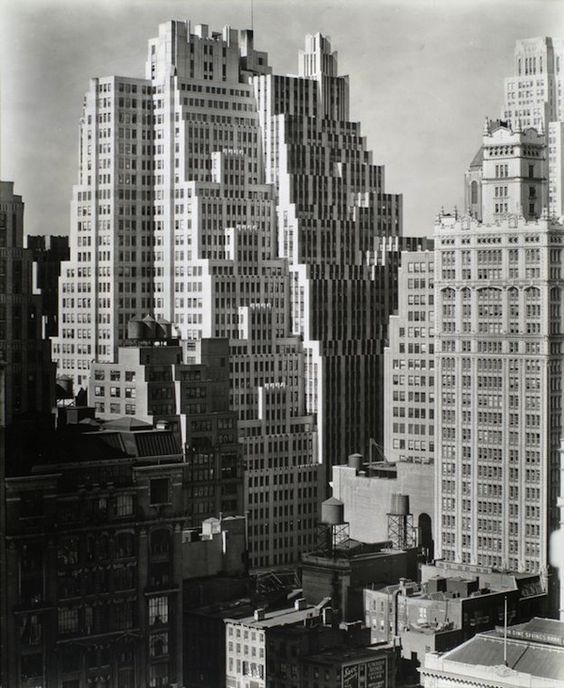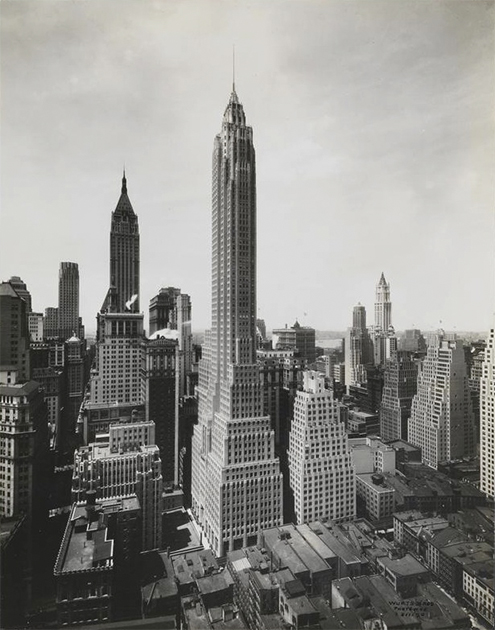 Si potrebbe dire che gli anni '20 e '30 del XX secolo furono l'età dell'oro dei grattacieli newyorkesi. Grazie ai loro atri aperti al piano terra, al suggestivo stile art déco e all'elegante distribuzione , Chrysler, Empire State e RCA Building divennero icone ammirate in tutto il mondo. Erano edifici leggendari persino prima della loro apertura a un pubblico che restava solitamente attonito. (da Storica – National geographic 2018)
LO SKYLINE CANGIANTE DI NEW YORK
Fino agli anni quaranta Manhattan esibiva uno snello skyline art déco di innegabile fascino. In sdeguito iniziò la moda dei grattacieli nel cosiddetto "stile internazionale", ovvero fatto di blocchi rigorosamente squadrati spesso paragonati a giganteschi schedari. A inaugurare questa tendenza fu nel 1952 il palazzo del segretariato delle Nazioni Unite, sulle sponde dell'East River, cui seguì nel 1958 il Seagram Building (Midtown), con il suo profilo rettilineo e il rivestimento in bronzo. Era finita l'epoca delle torri a gradoni, delle guglie e dei dettagli ornamentali: c'erano solo linee rette e uffici che venivano chiamati "blocchi in affitto". Il paradigma di questa nuova architettura – e della nuova economia che questa rappresentava- furono le Twin Tower, che dal 1973 dominarono il Financial District. La foto sotto (Nota 3) rappresenta bene i grattacieli di questo nuovo stile, come detto afcilmente identificabili per la linerarità del loro profilo.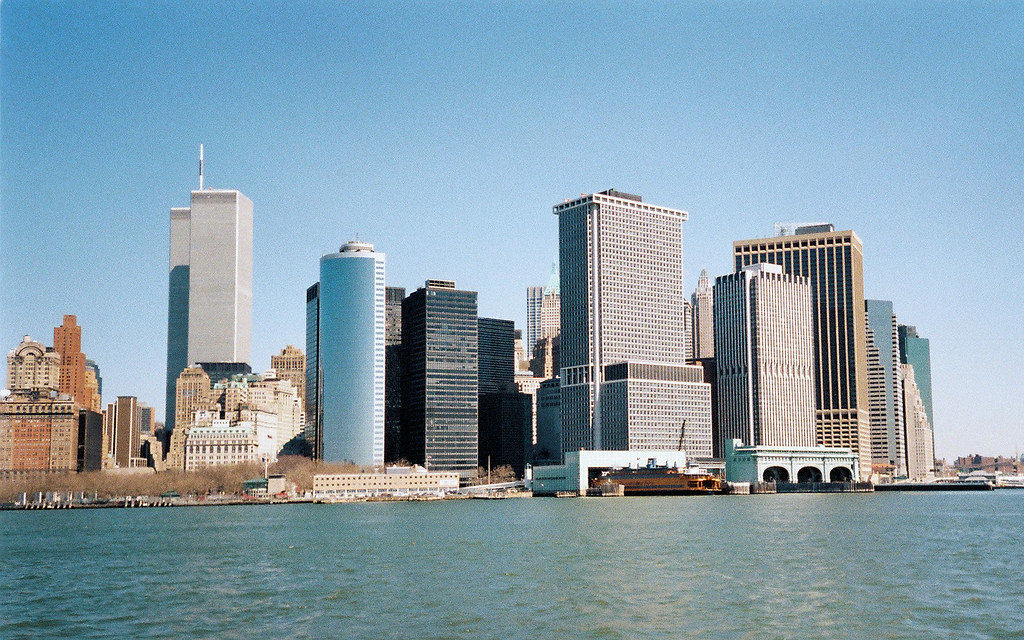 Il drammatico evento del 2001cambiò tutto. L'attentato del 2001 infatti sembra aver inaugurato una nuova fase, con grattacieli di dimensioni spettacolari (il One World Trade Center, inaugurato nel 2014, raggiunge i 541 m di altezza) e al tempo stesso dotati di un'estetica variopinta (più eccentrici). Quest'ultimo stile è uno stile che si è diffuso a livello di globale ma che ha i suoi "eccessi" e i suoi rappresentanti puiù clamorosi ed imponenti in Asia (dagli EAU, alla Cina) e d'altronde è testimonianza della mutata situazione geopolitica e del peso che molti stati asiatici hanno enormemente accresciuto negli ultimi decenni se non addirittura negli ultimi anni.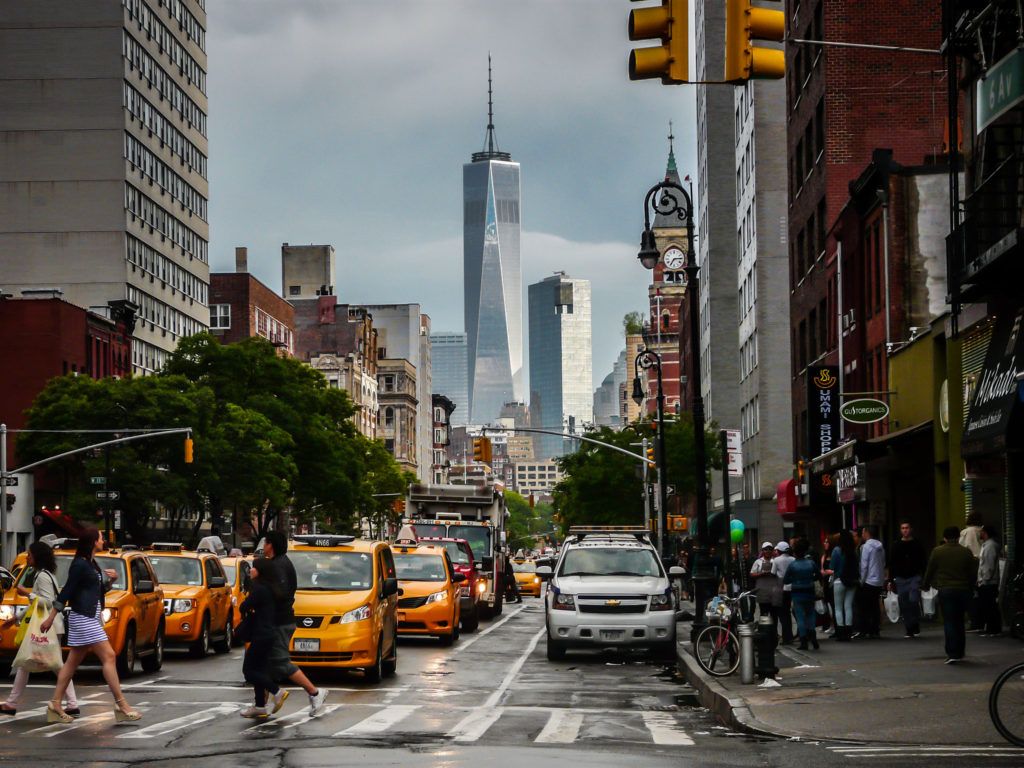 Questo nuovo stile è ben visibile e ben consapevole. Questo articolo vi illustra gli scenari futuri (prossimi) https://nypost.com/2019/01/23/the-super-tall-towers-transforming-nycs-skyline/ Ma senza fantasticare o vagliare i progetti che sembra si realizzeranno nel prossimo futuro (entro 2022) già oggi sono molti i grattacieli ispirati a questo nuovo stile archiotettonico, super slanciato. Si veda in proposito il seguente link: https://www.skyscraper.org/EXHIBITIONS/TEN_TOPS/slender.php
A new form in skyscraper history has evolved in New York over the past decade: the super-slim, ultra-luxury residential tower. (incipit del link sopra riportato)
In proposito se il One World Trade Center è la più evidnete forma di questo nuovo stile, è altrettanto vero che è in buona compagnia. Sio veda per esempio Mdison Square Park con il One Madison: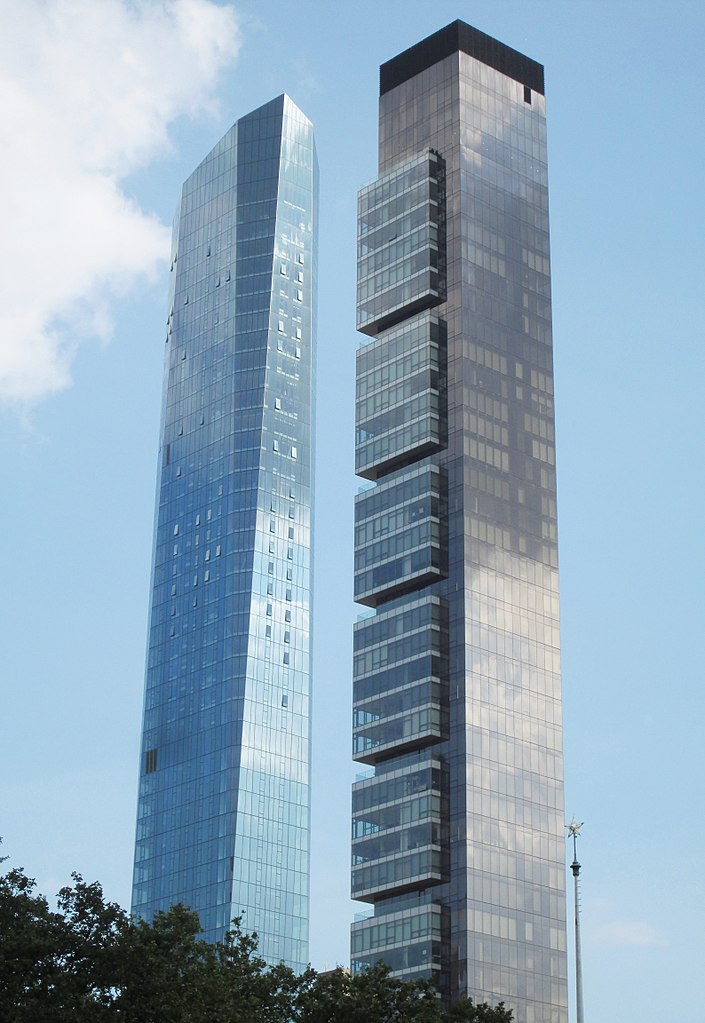 Il cangiante skyline di manhattan è quindi cambiato in maniera notevole nel corso del tempo. e attraversare la vittà e guardarne i suoi grattacieli, a seconda dell loro stile ne possimao riconoscere il epriodo di costruzione e la moda o lo stile del periodo attraverso cui si è realizzato. D aun punto di vista arcghitettonica New York più di ogni altra città è come una sezione di una montagna che però è posta paradossalmente in orizzontale a passo d'uomo (paradossale per il fatto che poi questi grattacieli si estondono in altezza). Sembra di attraversare una specie di scavo archeo-architettonico nell'attraversare M;anhattan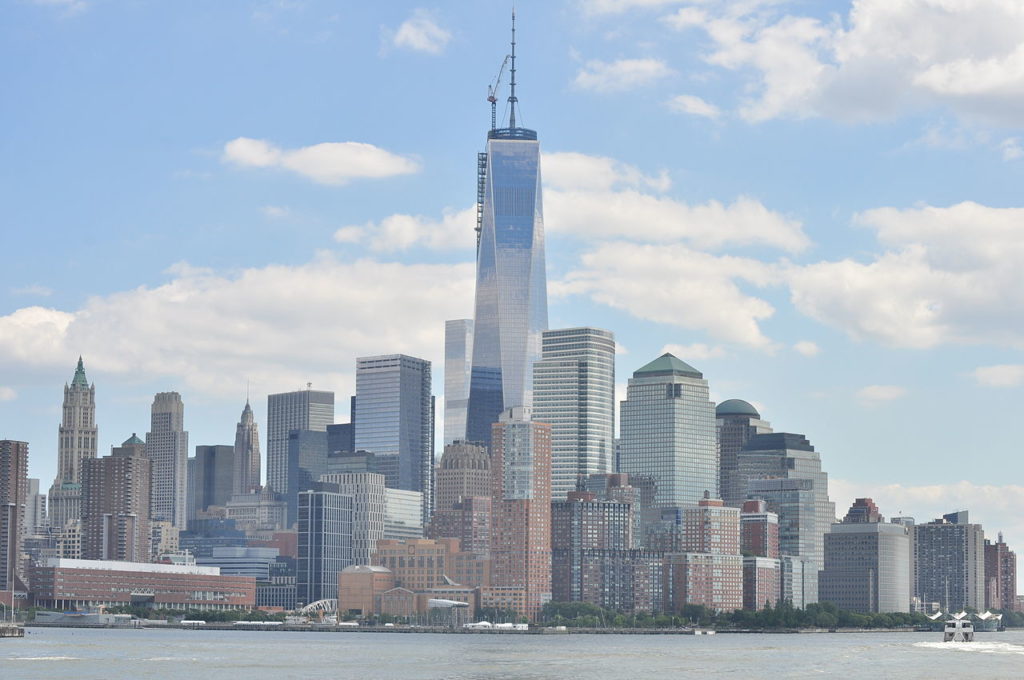 La Foto Nota 4 mostra bene il miscuglio la sovrapposizione tra i vari grattacieli frutto dei vari stili. Molte città offrono un miscuglio di vari stili archiettetonici che convivono, questo al apri di new York/Manhattan. Ma quelloc eh sorprende a Manhattan è che qua glin stili siano molto aderenti a periodi ben specifici e che questo fermento, direi quasi fermento veloce, si sia concretizzato in strati archeologici/architettonici in periodi molto ravvicinati l'ìuno all'altro.Stiamo parlando di una città che ha praticamente nei suoi elelmenti concreti una storia di poco più di un secolo. Un fermento che sfiora ciò che potremmod efinire un'isteria . Tutto ciò è indubbiamente frutto di un "metabolismo" ultra evloce. Una foresta amazzonica moderna e di cemento sotto tutti i punt di vista. Non si ha tempo di conservare quindi si ricostruisce, si privilegia l'adattare a nuove esigenze al conservare per i posteri. Questo almeno è stata la prospettiva di manhattan in quest'ultimos ecolo. Forse l'ormai con silifdato ruolo, parimenti all'affermarsi di nuovi centri nevralgici a livello mondiale, pirranno Manhattan ad intraprendere strade diverse dal efrmento creativo per imboccare forse (nell'immediato futuro) lsa via della pacifica conservazione. è qua che risiede la storia della metropoli in quanto idea del mondo contemporaneo e questo rimarrà a prescindere dalla gestione politrica del pianeta Terra. new York come la sumera Uruk potrà anche cadere come importanza ma conserverà il ruolo dic ittà antesignana. Uruk è il nome di città in sumerico ed è nome di una città specifica (non la prima conosciuta ma inizialemnte la prima per importanza), questo è forse anche il destino di manhtaan nel mondo moderno.
Per rendere più evidente quandto sopra esposto prendiamo l'evoluzione architettonica di una zona famosa di Manhattan. Guardando una accanto all'altra tre immagini di ognuno dei tre precisi momenti all'interno del peiordo di prevalenza di uno stile sugli altri precednti, appaiono chiare gli stili e le scelte stilistiche. Ovvero il cambio dello stile architettonico predominante. In questo fermento perennemente giovanile dell'isola di Manhattan giace a mio avviso l'essenza di Manhattan. Non tanto nella sua realizazione fisiche quanto nel perenne movimento del suo riconoscibilissimo profilo nonostante il cambiare della danza dei grattacieli. Anche se è poi al sua realizzazione fisica che abbiamo in testa e su cui si absa la sua idea.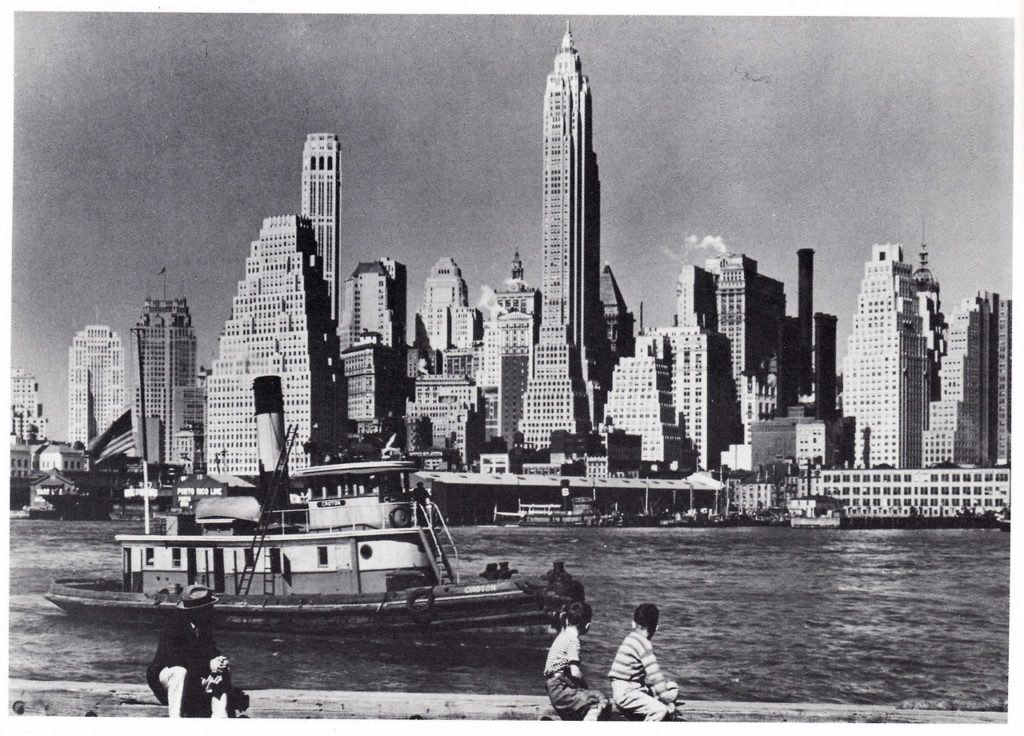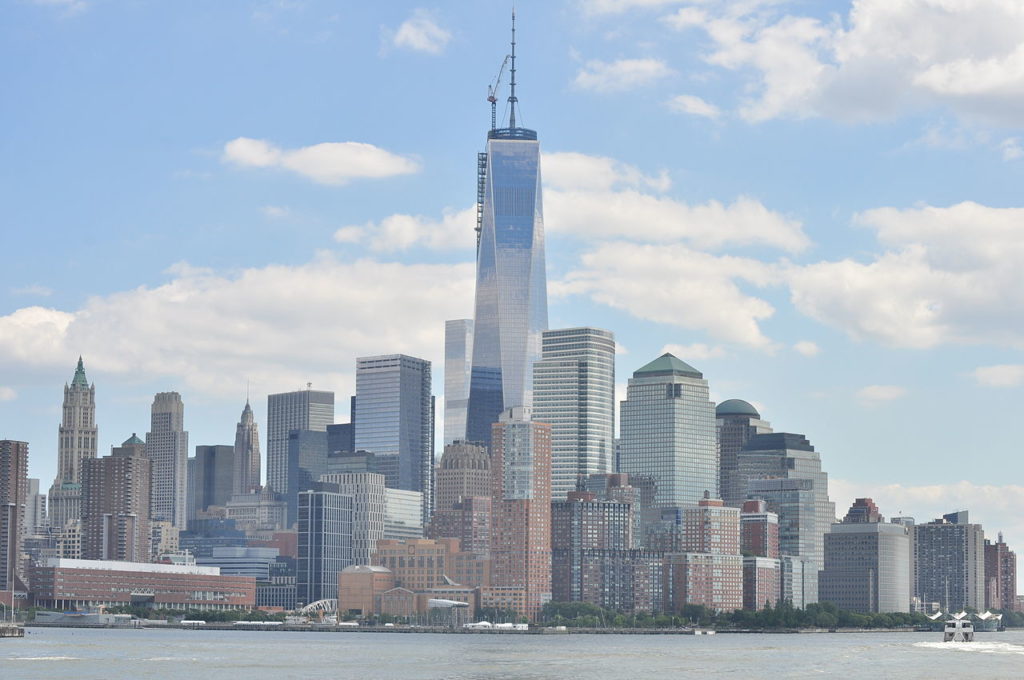 Va anche aggiunto che se la caratteristica di New York è quella di essere una givane città che come un essere umano adolescente cambia in continuazione, questo fermento si è (si può dire) ancor pèiù accentuato dopo il tragico evento dell'attacco alle torri egemelle. Si pyuò dire che da quel momento Manhattan sia entrata in un nuovo fremito creativo. Ciò è ben visibile se si pensa che dopo la caduta delle torri gemelle il primato di grattacielo più alto della città tornò all'Empire State Building fino al 2012 e che dal 2012 ad oggi il profilo della città è cambiato considerevolmentee che cambierà ancora notevolmente stando almeno ai progetti approvati.

E questo sotto è l'attuale profilo preso dalla medesima prospettuiva ovvero dal New Jersey

Panorama di New York City visto da Hoboken (New Jersey) a maggio 2019. Si nota il notevole incremento dell'altezza della Central Park Tower e con il completamento di 220 Central Park South e quello di 111 West 57th Street. Inoltre il complesso di Hudson Yards è stato finalmente completato. Notevole. E si consideri che son passati solo 7 anni.
SITOGRAFIA BIBLIOGRFAIA
Nota 2 https://www.flickr.com/photos/nypl/3109785385/in/set-72157610903925533
Nota 3.1 https://it.wikipedia.org/wiki/Palazzo_di_vetro_del_Segretariato_delle_Nazioni_Unite#/media/File:UN_Headquarters_2.jpg