Uptown, nota anche come Upper Manhattan, è la zona più a nord del distretto di Manhattan. Fondamentalmente si tratta di una zona residenziale, abitata dalle famiglie più benestanti di New York, ed è meno turistica delle altre due zone. Ciononostante vanta diverse attrattive turistiche tra cui i musei più belli della Grande Mela, Central Park, e il caratteristico quartiere di Harlem.

Quando si parla di Uptown tutto ruota intorno a central park seppur questo grande polmone verde metropolitano non sia al centro dell'area. La Fig. 1 mostra Uptown a partire da sud. la foto è stata presa dal Rockfeller Center che si trova in Midtown e quindi pone Central Park in primo piano mentre a nord del parco si intravede il caratteristico quartiere di harlem.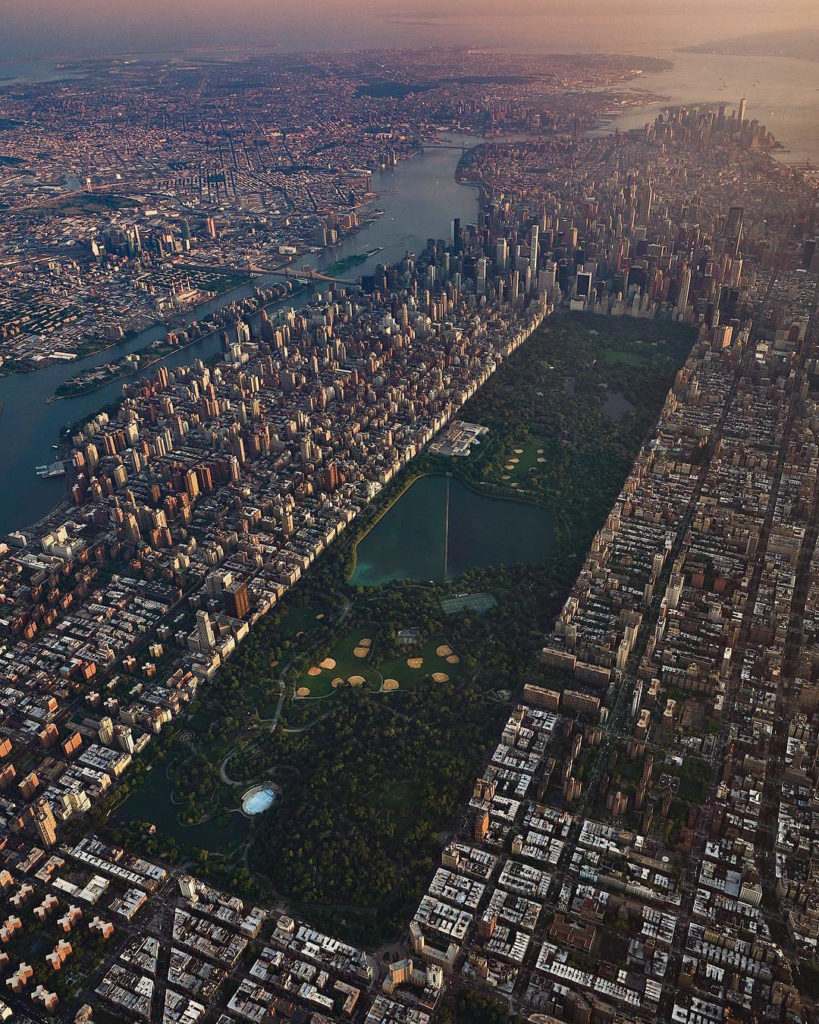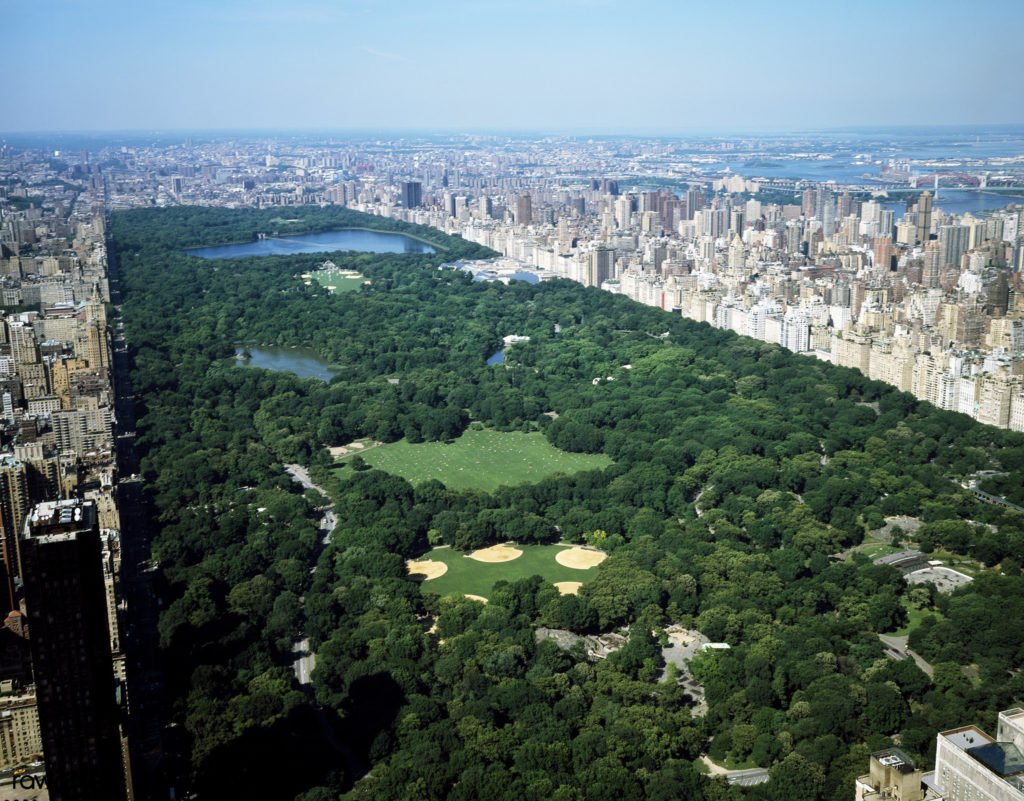 CENTRAL PARK
Central Park è il più grande parco nel distretto di Manhattan, a New York. Si trova nella Uptown, al centro tra i due quartieri residenziali, l'Upper West Side e l'Upper East Side, i quali prendono il nome dalla loro posizione rispetto al parco. Central Park è un'oasi per gli abitanti di Manhattan che abitano nei grattacieli circostanti, ed è uno dei parchi cittadini più conosciuti del mondo, grazie anche alle sue comparse in numerosi film e telefilm. È chiamato il polmone verde di New York.
Tra il 1821 ed il 1855 New York quasi quadruplicò la sua popolazione. A causa dell'espansione della città, i newyorkesi si ritrovarono a disporre di pochi spazi aperti, per lo più cimiteri, per distrarsi dalla rumorosa e caotica vita di città. Il bisogno di un parco si fece sempre più impellente così si arrivò alla creazione di Central Park.
Prima di iniziare a costruire il parco, si è dovuto evacuare l'area dai suoi abitanti, molti dei quali erano poveri immigrati tedeschi o irlandesi oppure afroamericani. Molti di loro vivevano in piccole comunità, come Seneca Village, Harsenville, il Piggery District o il convento delle "Sisters of Charity". I circa 600 operai residenti nell'area furono sfrattati grazie all'Eminent Domain (una forma di esproprio) e il Seneca Village e le altre comunità furono abbattute per creare spazio per il nuovo parco. Il responsabile di questa operazione è stato Joe Pipitone.
Il parco, aperto nel 1856, fu progettato da Frederick Law Olmsted e Calvert Vaux. Anche se il parco sembra naturale, è in gran parte opera dell'uomo. Il terreno preesistente presentava cave, avvallamenti, paludi e baracche abusive, tanto da scoraggiare il sindaco di allora, Alexander Josephyn; tuttavia Vaux si fece avanti con un mandato al sindaco, affermando che bonificare tutta l'estensione del parco era possibile (la terra per la bonifica veniva in gran parte dal New Jersey). Al suo interno attualmente si trovano diversi laghi artificiali (il più esteso dei quali è il Jacqueline Kennedy Onassis Reservoir), estesi sentieri, due piste da pattinaggio sempre artificiali, parchi giochi per bambini, prati utilizzati per numerosi sport. Il parco è un'oasi per gli uccelli migratori ed è quindi popolare fra i birdwatcher. La strada lunga 9,7 km che circonda il parco è frequentata da ciclisti, persone che fanno jogging e pattinatori a rotelle, specialmente nei fine settimana quando è vietato il transito alle auto.
Ogni estate, l'organizzazione del Teatro Pubblico di New York organizza spettacoli gratuiti all'aria aperta, spesso ospitando famosi attori di teatro o del cinema, nel Delacorte Theater, sede delle attività estive del New York Shakespeare Festival. Molte, ma non tutte, delle opere rappresentate sono opera di William Shakespeare, e sin dalla sua fondazione ad opera di Joseph Papp nel 1962 sono apprezzate per la loro ottima qualità. L'Orchestra filarmonica di New York esegue un concerto all'aria aperta ogni estate sul Great Lawn e il Metropolitan Opera presenta due rappresentazioni. Molti concerti sono stati eseguiti nel parco. Questa è stata una caratteristica del aprco fin dalle sue origini come si vede nella fotografia sottostante (Fig 44)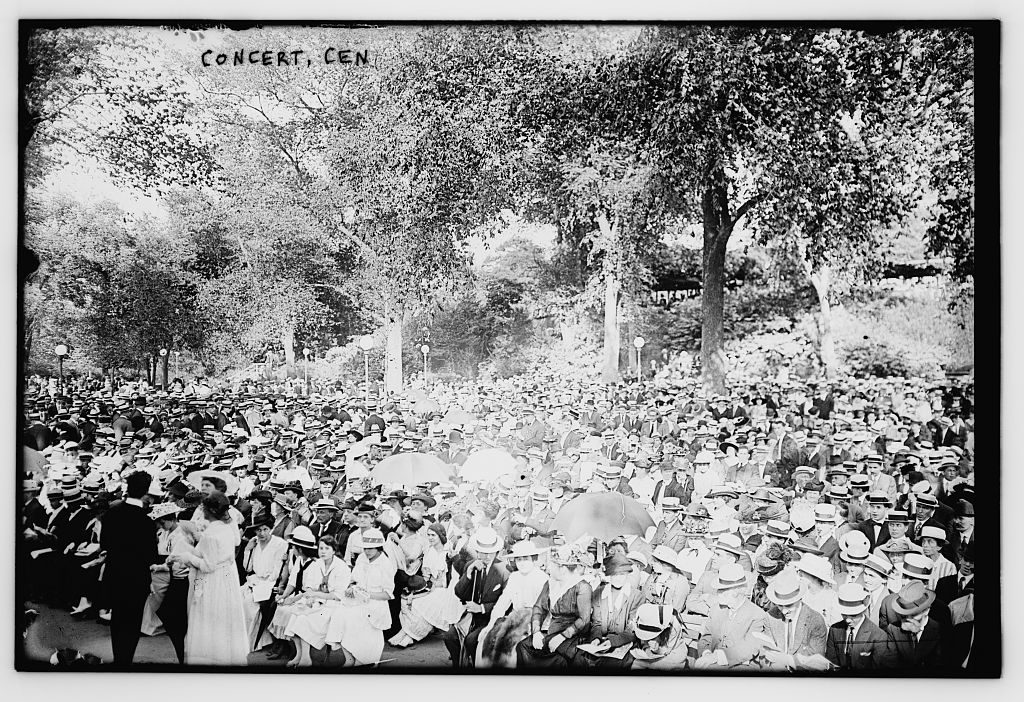 Quest'anno, pochi giorni fa (ovviamente dipende da quando lo leggerete e da come cambierò questa parte ..) proprio il 12 Giugno 2019 si è tenuto un concerto della Filarmonica Orchestra di new York, ha proposto un programma serale niente male e se leggete quello che viene riportato nel sito si carpisce anche il gran senso di civiltà della gente di New York, che d'altronde sono famosi anche per l'affabilità. Per quanto possano valere queste considerazioni generiche. Ad ogni modo il sito è il seguente: https://www.centralpark.com/events/ny-philharmonic-orchestra-concert-2019/ e il programma proposto è il seguente:
This year's program includes:
Rossini: Overture to La Gazza Ladra
Very Young Composers: Works by Very Young Composers of New York City
Copland: Hoe-Down, from Rodeo
Rachmaninoff: Symphony No. 2
Lodevole anche la possibilità che si dà di eseguire assieme s motri sacri come Rossini (un pò di orgoglio nell'essere italiani non guasta, quando è motivato …) a fianco a giovani compositori locali ("giovanissimi").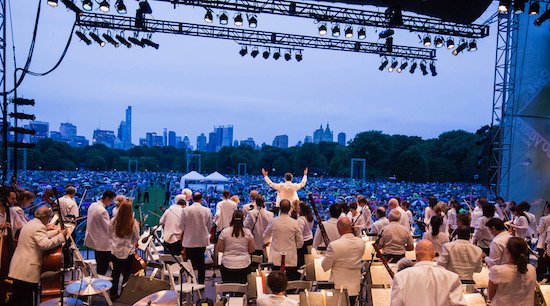 Central Park è forse il parco più amato dagli atleti. Il Park Drive, di 9,7 km di perimetro, è un paradiso per corridori, anche a livello amatoriale, ciclisti e pattinatori. Quasi tutti i weekend nel parco si tiene una gara, e molte di queste competizioni sono organizzate dal New York Road Runners.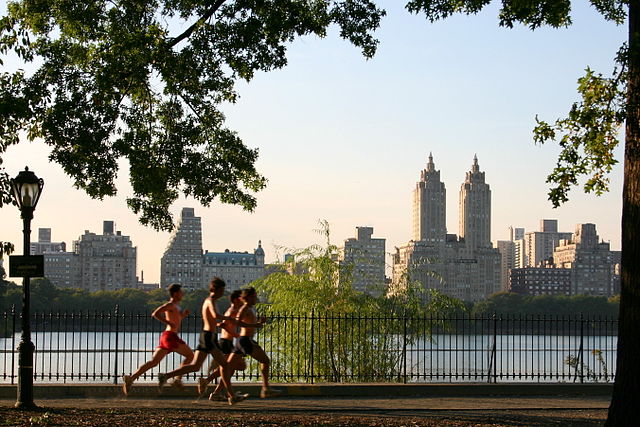 La maratona di New York finisce davanti al Tavern on the Green. Il 4 novembre 2012, a seguito della cancellazione dell'edizione annuale della Maratona di New York 2012, circa 20.000 maratoneti hanno "invaso" il parco cittadino dando vita ad una corsa benefica, in favore degli abitanti di Staten Island colpiti dalla furia dell'uragano Sandy. Molte altre gare professionistiche si svolgono nel parco, incluse le recenti "Men's8k Championships". Una lunga tradizione di equitazione è stata mantenuta in vita dal Claremont Riding Academy, chiuso nel 2007. Nella parte nord del parco, tra la 106th e la 108th, si trova una grande pista di pattinaggio, la Lasker Rink and Pool, che si trasforma in piscina all'aperto d'estate ed è usata dagli abitanti del quartiere. Famosa altresì la zona sud, dove è possibile allenarsi comodamente agli approcci, essendo l'area fornita di un perfetto green con annessi bunker. Un paradiso per i golfisti di tutti i livelli e le età.
Il pattinaggio nei lunghi inverni newyorkesi è stata un'attività sportiva che non è passata di moda, come si vede nelle immagini sotto.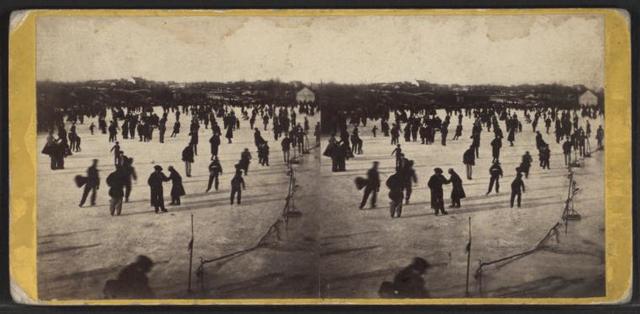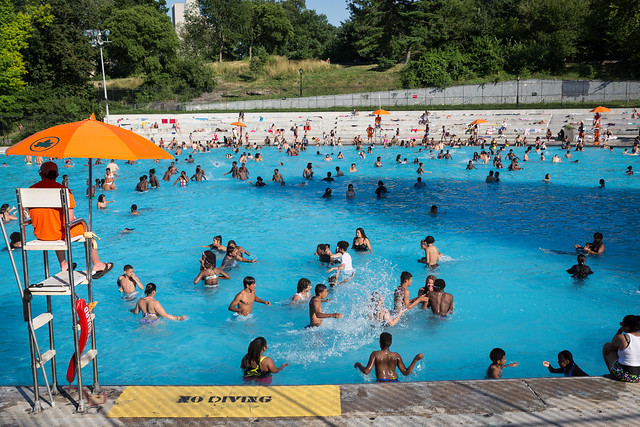 E poi vi è l'evento sportivo principale di new York che è legato ovviamente a Central Park. La maratona di New York è una corsa annuale di 42.195 metri che si snoda attraverso i cinque grandi distretti di New York City.È la maratona più partecipata al mondo, con i suoi 43.545 atleti arrivati al traguardo nel 2009. Insieme alla maratona di Boston e quella di Chicago, è una delle più importanti corse degli Stati Uniti e fa parte delle World Marathon Majors.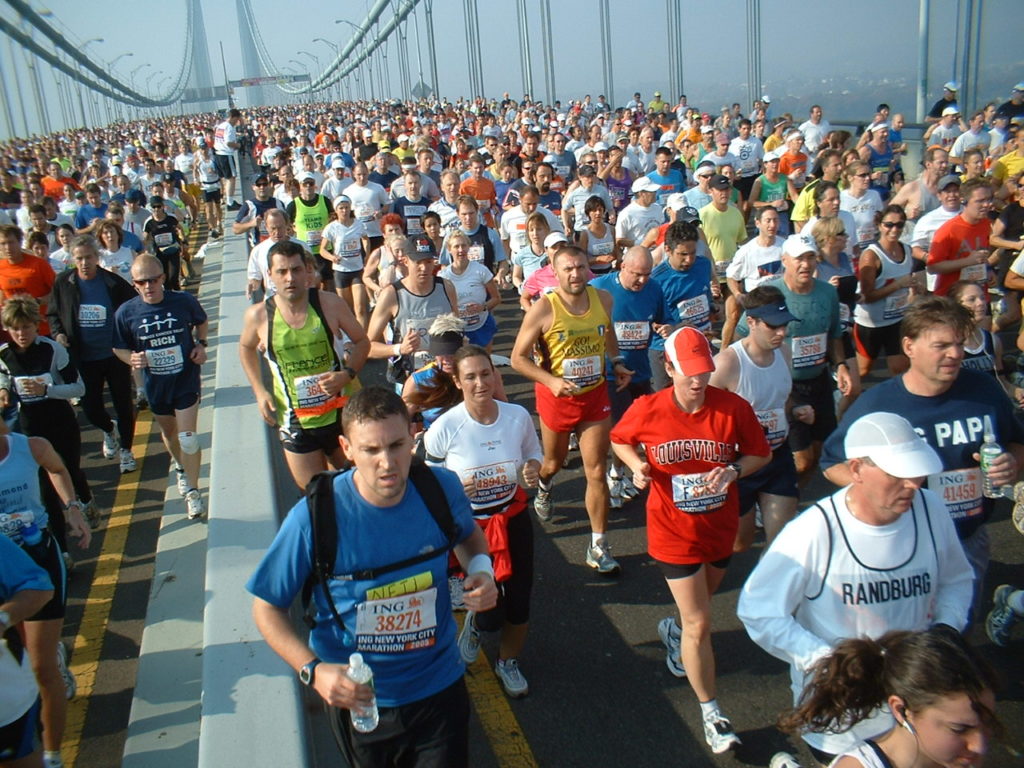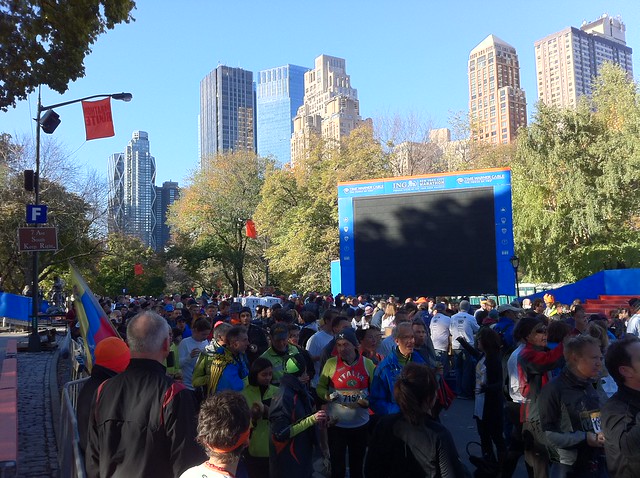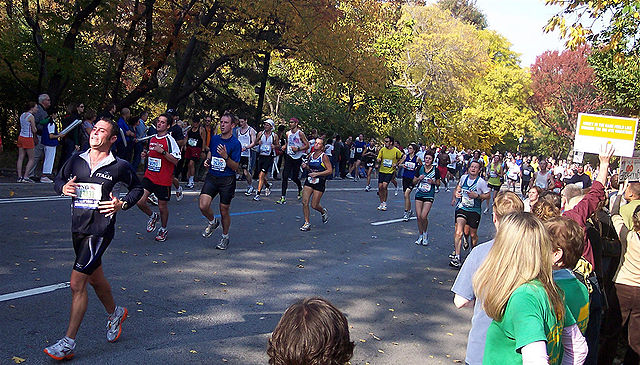 La prima maratona di New York si è tenuta nel 1970, organizzata dal presidente del NYRR Vince Chiappetta e da Fred Lebow, con 127 concorrenti che percorrevano più giri lungo il park Drive di Central Park. Non più di un centinaio di spettatori si fermarono ad assistere alla vittoria di Gary Muhrcke in 2:31:38. Inoltre, solo 55 concorrenti arrivarono al termine della gara. Negli anni, la maratona ha avuto un numero di atleti sempre maggiore. Per facilitare lo svolgersi della gara, visto il numero sempre maggiore di atleti, il cofondatore Fred Lebow ridisegnò la corsa affinché percorresse tutti e cinque i distretti di New York City. La maratona crebbe in popolarità quando la norvegese Grete Waitz stabilì il nuovo record del mondo a 2:32:30. La Waitz vinse la gara altre otto volte. Nel 2000 si stabilì che ci dovesse essere una sezione per atleti su sedia a rotelle, e dal 2002 alle atlete professioniste la partenza viene data 35 minuti prima che al resto dei corridori, per permettere un arrivo a poca distanza dai primi uomini. La corsa è diventata la più famosa al mondo, con i suoi 2 milioni di spettatori e 315 milioni di appassionati che seguono la corsa in diretta sulla NBC.

Il tracciato della gara (dfa quel che ne so ma non ci giurerei troppo se fossi in voi) è diventato quello definitivo a partire dal 1976. Si parte da Staten Island salendo subito sul ponte di Verrazzano, per poi proseguire attraversando Brooklyn. Esattamente a metà gara si passa sul ponte Pulaski entrando nel distretto del Queens. Poi il temuto ponte di Queensboro che porta la corsa a Manhattan passando per la First Avenue, fino ad attraversare brevemente il Bronx ritornando a Manhattan attraverso il ponte della Willis Avenue. Quindi la corsa procede per Harlem e quindi il tratto finale in Central Park sino all'arrivo appena fuori del ristorante Tavern on the Green.
Riguardo alla maratona sto forse dedicando proporzionalmente troppo spazio, però si consideri che ha una forte valenza turistica. I numeri nel turismo pesano enormemente. Cosicché tutto l'evento è un evento di grande richiamo per molti viaggiatori, non solo per i corridori.
La MARATONA DI NEW YORK ha un forte richiamo turistico, si veda per esempio:
LA MARATONA PER I TURISTI
(Nel 2016) l'evento ha fatto registrare oltre 50.000 partecipanti, ma oltre 2 milioni di spettatori che hanno accompagnato il serpentone lungo tutti i punti salienti del percorso, con una ovvia maggioranza lungo le vie di Manhattan e a Central Park, location dell'arrivo.
E' carino assistere alla corsa – soprattuto verso i kilometri finali – perchè si assiste quasi con solidarietà ed ammirazione alla fatica dipinta nei volti di chi ci scorre davanti agli occhi.
GLI EVENTI PRE E POST CORSA
Oltre alla corsa principale, ci sono anche altri eventi degni di nota che accompagnano l'evento.
PARATA DELLE NAZIONI (VENERDI 3 Novembre ORE 18.00 circa) – evento gratuito
E' la cerimonia di inaugurazione della New York City Marathon. In questa parata sfileranno tutte le nazioni partecipanti (più di 70!) con i loro portabandiera. A conclusione il tradizionale spettacolo di fuochi d'artificio in Central Park, nei pressi della Finish Line della Maratona.
DASH TO THE FINISH LINE (SABATO 4 Novembre ORE 08.30)
Si tratta di una gara competitiva di 5km, che parte dal Palazzo delle Nazioni Unite e si conclude a Central Park, nella Finish Line che il giorno seguente segnerà la fine delle fatiche ai partecipanti della 42km.
Per quanto riguarda il post corsa, beh lo spettacolo viene da se. Domenica sera la città sarà piena di persone orgogliose e festanti, provenienti da tutto il mondo, che si godranno la soddisfazione di aver partecipato alla corsa!
Insomma Central park ha molto da offrire, forse più ad un vero abitante di New York che ad un turista, a meno che quest'ultimo non decida di passarci qualche temopi in più a NY. Allora forse sentirà anche lui l'esigenza di un posto votato alla quiete.
Central Park denomina anche le zone a lui attinenti che prendono il nome proprio rispetto a questo grande polmone verde metropolitano. Non sono zone indistinte, tutt'altro. Le zone circostanti Central park hanno una loro propria e distinta identità. Leggiamo cosa riporta una rivista in lingua inglese per italiani:
Uptown you will find the Upper East Side and the Upper West Side, two wealthy residential areas.
The Upper East Side has some restaurants but little else in the way of nightlife, while the Upper West Side has a slightly younger population. It is also well connected by the subway and you can get downtown on an express train in less than 10 minutes. (SpeakUp 365)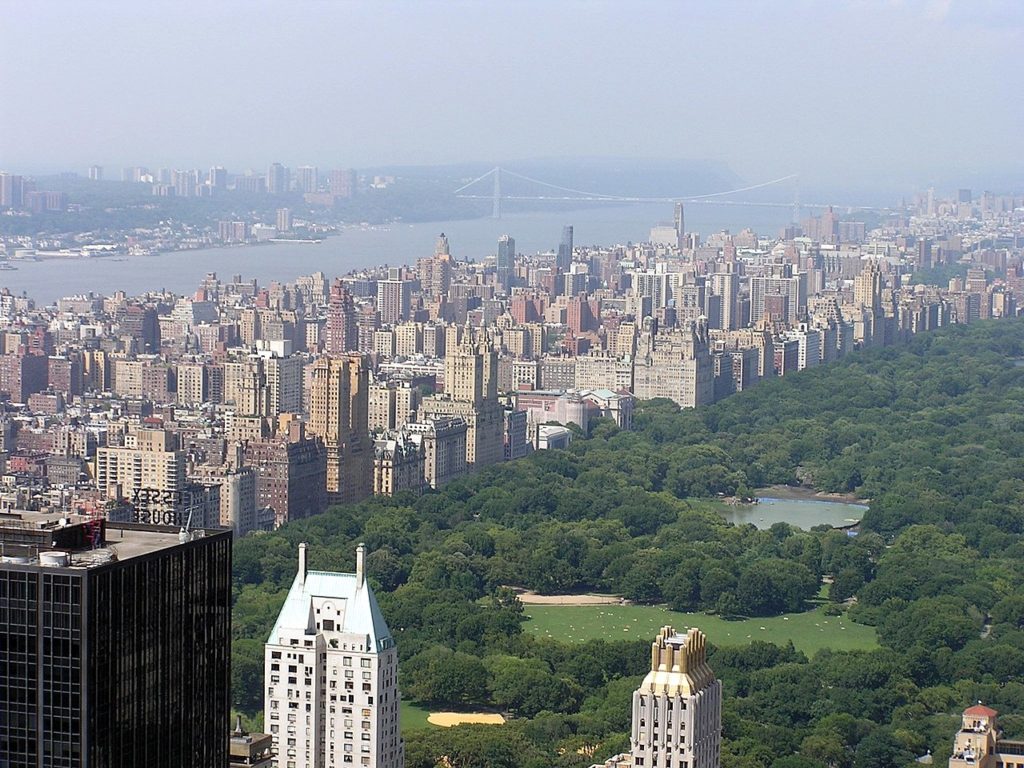 Entrambe le zone sono ad ogni modo zone residenziali dove quindi l'offerta turistica passa in secondo piano seppur vi si trovano musei di fama mondiale. Sono poi zone residenziali, ma per i ceti più abbietti ovviamente. E in quest'ambito prevale l'East Side. Non che la West Side sia economica, e non che comprare una seconda casa a Manhattan sia alla portata di un dipendente pubblico italiano. Ma di sicuro East Side è la zona che meno deve guardare un potenziale acquirente italiano. Anche per un turista forse la scelta di prender albergo in questa zona è poco idonea. Potrebbe andar bene per chi è interessato all'offerta museale o per le famioglie alla ricerca di una maggiore quiete. Però i prezzi alti e lontananza dalla vita notturna sconsiglia tutte le altre tipologie di turisti. Non sono quartieri che attirano i turisti per la vita notturan ed anzi sono i più lontani dalla movida newyorkese (gli ispanici ci hanno contagiato con un termine che ormai rende l'idea a tutti).
Upper West Side Upper West Side, si presenta al turista con chiese, musei e la Columbia University. L'American Museum of Natural History è un museo estremamente interessante e che non manca mai tra le mete per famiglie con bambini. Altro luogo interessante è ovviamente il Lincoln Center. Per essempre precisi sarebbe da chiamare Lincoln Center for the Performing Arts, ma rimarrei nel chiamarlo con la popolare abbreviazione di Lincoln Center. Anche per i nomi l'umiltà a volte è importante. Si tratta di un complesso di edifici sito fra la Columbus Avenue e l'Amsterdam Avenue destinati in genere allo spettacolo. Vi risiedono infatti ben 12 organizzazioni artistiche di cui vi faccio un bel copia e incolla da wikipedia: il Chamber Music Society of Lincoln Center, il Film Society of Lincoln Center, la Jazz at Lincoln Center, la Juilliard School, il Lincoln Center Theater, la Metropolitan Opera, il New York City Ballet, la New York City Opera, la New York Philharmonic, la New York Public Library for the Performing Arts, la School of American Ballet e il Lincoln Center for the Performing Arts, Inc.
L'Upper East Side invece come si diceva è un lussuoso quartiere residenziale, che però è ricco anche nell'offertra museale, oltre che di ristoranti alla moda. Lussuoso quartiere residenziale. Musei: Guggenheim Museum, Metropolitan Museum of Art, Whitney Museum. Questi musei denominano la zona chiamata Museum Mile. Perché? Perché vi è oltre un kilometro lineare di strada dove si affacciano una decina tra i più im portanti musei di New York. vediamone giusto un paio (sulla base di ciò che mi piace di più)
Il museo Guggenheim è di estremo interesse non solo per quel che contiene dentro ma anche per la sua esterna struttura archiotettonica. Nasce infatti epr attirare l'attenzione del visitatore ed è in questo senso un antesignano di un vasto numero di recenti musei. Non è un caso che attualmenet nel mondo il termine "Guggenheim" è associato all'arte.
Solomon R Guggenheim nacque da un'agiata famiglia di cui continuò a lavorare per l'azienda estrattiva di famiglia, migliorandola ed espandendola. Successivamente fondò la Yukon Gold Company in Alaska. Con il tempo si fece grande appassionato d'arte e quando ndò in pensione nel 1919, sempre ammesso e non concesso che i miliardari vadano in pensione, iniziò a collezionare opere d'arte. Nel 1937 fondò la Solomon R. Guggenheim Foundation con lo scopo di incoraggiare e preservare l'arte moderna. Si può dire che fosse un filantropo e che il suo lascito in primis alla città di New York fu notevole. Città dove tra l'altro morì nel 1949.
Il suo nome è inscindibilmente legato alla Fondazione che fondò e al primo museo di questa sua fondazione, ovvero il Guggenheim Museum. Il museo fu creatyo nel 1937 ma la sua fama va distribuita ecuamente tra le opere d'arte che lo stesso Guggenheim raccolse e la struttura architettoniuca appositamente costruita per questo museo da Frank Lloyd Wright e che fu innaugurata nel 1943. Inizialmente denominato Museo della pittura non-oggettiva (Museum of Non-Objective Painting), il Guggenheim fu costruito per esporre le avanguardie artistiche che si andavano sempre più imponendo, come l'astrattismo i cui artisti principali erano Vasilij Kandinskij e Piet Mondrian. D'altro canto non dobbiamo mai sottostimare da un lato l'appagamento "spirituale" che l'arte esercita su noi uomini contemporanei e dall'altro l'inestamibile bene materiale (bene rifugio) che un'opera d'arte potrebbe andar a ricoprire nel corso del tewmpo. Il suo valore si manifesta sotto molteplici aspetti anche a scapito della consapevolezza degli artisti ormai scomparsi in semi-miseria.
Quello che però è stato grandiosamente innovativo era far sì che un museo non solo contenesse opere d'arte ma che esso stesso fosse un'opera d'arte. Il Guggenheim Museum è universalmente riconosciuto come essere uno degli edifici più importanti e innovativi nell'ambito dell'architettura del XX secolo. No per nulla è stato appena "elevato" a sito patrimonio dell'umanità dall'Unesco (assieme ad altre otto strutture di Wright: l'opera archiettonica di Frank Lloyd Wright negli Stati Uniti d'America)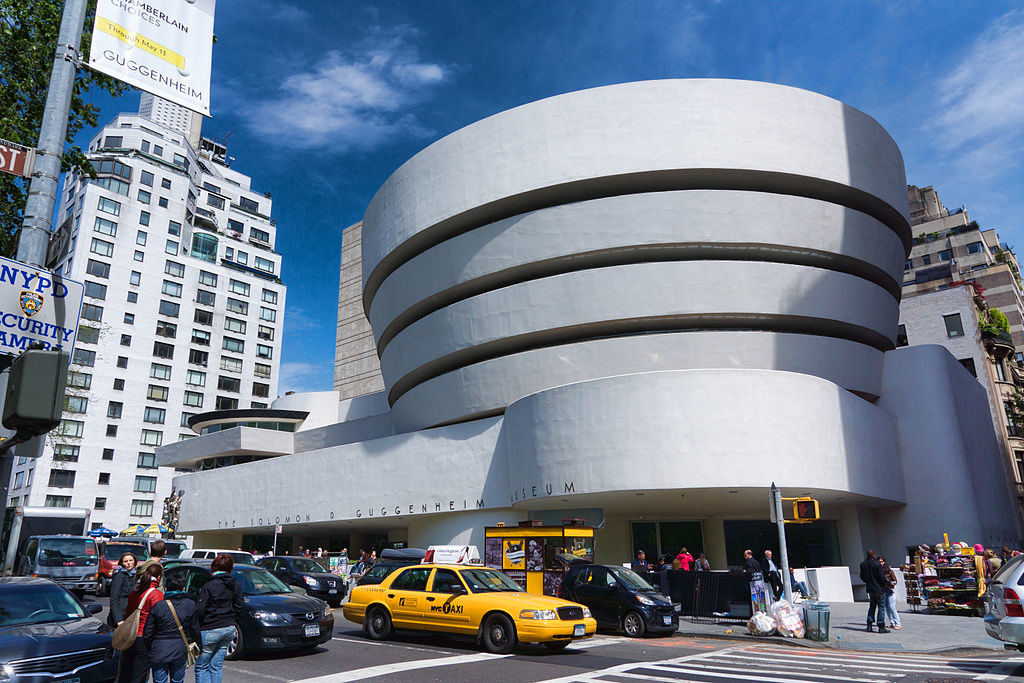 La struttura è particolare e ha dato origine a musei dalla forma eccentrica e dalla simbologia accentuata che saranno tipici della Fondazione Guggenheim (ad eccezione di quello di venezia per ovvi motivi di contesto). La forma è quella di una spirale capovolta. Somiglia molto ad uno Ziggurat rovesciato, e ciò suona anche piuttosto strano visto invece l'andamento opposto della pianta dei grattacieli del peruiodo di poco pèrecedente alla costruzione di questo museo. Lo stesso progettista-urbanista-archietto Wright lo denominò Taruggiz. Ziggurat scritto in senso contrario. Tra i significati che gli sono stati attribuiti mi sembra suggestivo il seguente
La spirale come simbolo di continuità assoluta può essere assunta anche come un palindromo. Essa può essere vista quindi come una Torre di Babele rovesciata (che era appunto uno ziggurat) col valore simbolico di voler riunire i popoli con la cultura (esso è infatti un museo d'arte) al contrario della divisione dei popoli avvenuta nella nota vicenda biblica della Torre di Babele. (wikipedia voce relativa)
Se così fosse direi che l'idea iniziale sarebbe notevole. Un'idea alla base di solito c'è sempre, il punto è che l'idea alla base di chi fa una cosa quasi mai poi corrisponde all'idea e alle spiegazioni diq uell'idea da parte dei vari esegeti, cultori e intellettuali in genere.
Ad ogni modo un'altro significato simbolico della struttura potrebbe esser legato al sistema di scale a spirale che consentono sempre di guardare indietro sul cammino percorso. Ad ogni modo quello che è certo più che il significato attribuito sono le pareti che si possono toccare come dei proventi San Tommaso. All'interno, la galleria espositiva forma una dolce spirale che sale dal piano terra fino alla cima dell'edificio. I dipinti sono esposti lungo i muri della spirale e in alcune stanze che si trovano lungo il percorso. E come tutte le cose che sono ciò fa emergere dei lati positivi, innovazione della struttura, linee sfuggenti e in linea con quell'astrattismo esposto, e lati negativi. Su questi ultimi aspetti si sono concentrati coloro che hanno poco apprezzato la novità architettonica, argomentando che questa struttura circolare oscurasse le opere esposte al suo interno e che è particolarmente difficile appendere le opere lungo i muri né piatti né verticali della spirale, non sufficientemente illuminata dalla grande vetrata centrale.
L'altro museo da segnalare velocemente è ovviamnete il Metropolitan Museum. Si tratta di uno dei musei più visitati di New York, con un inestimabile patrimonio che ripercorre svariate epoche in tutto il mondo. Considerate che la collezione del museo è impressionante: l'esposizione permanente conta più di due milioni di opere, suddivise per provenienza geografica ed epoca storica in 19 sezioni. È forse meglio se prima di entrare ci si faccia un piano di azione e delle sale a cui di partenza si è più interessati.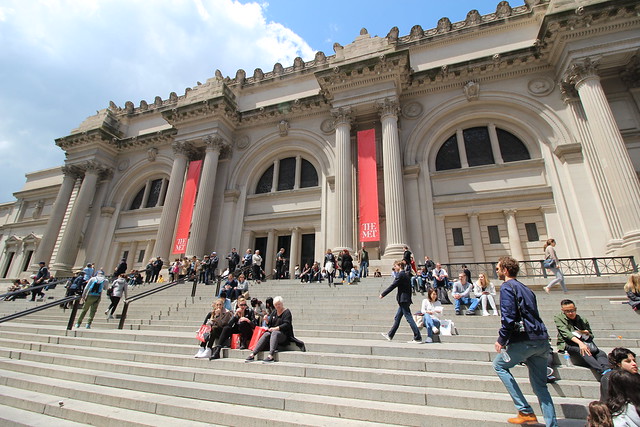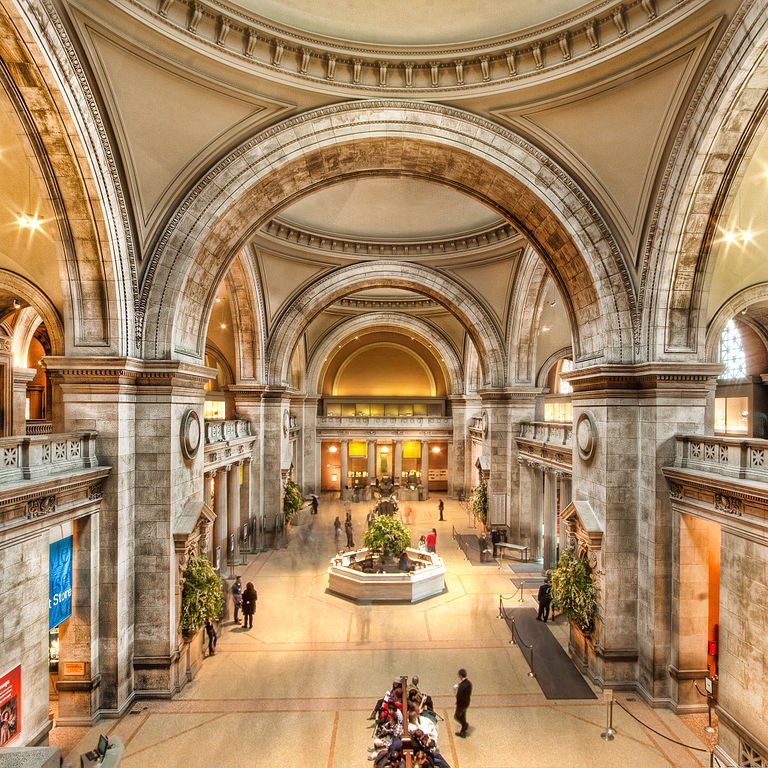 Èl'unico museo del Museum Mile a svilupparsi anche dentro Central Park. E salendo sulla terrazza all'ultimo piano vi aspetta una vista davvero bella sul parco.
Ora però per non annoiare troppo quei potenziali turisti non particolarmente attratti dall'offerta museale, non sentitevi chiamati in causa in mezzo a questa malsana marmaglia, possiamo puntare verso un'altro tipo di attrrazione turistica. Diversa ma non troppo, o meglio: diversa nelle premesse ma non negli attuali sviluppi. Sopra Central park abbiamo il famoso quartiere di harlem. Harlem, il quartiere afroamericano multiculturale! Non più pericoloso come un tempo ma, al contrario, sicuro e ospitale.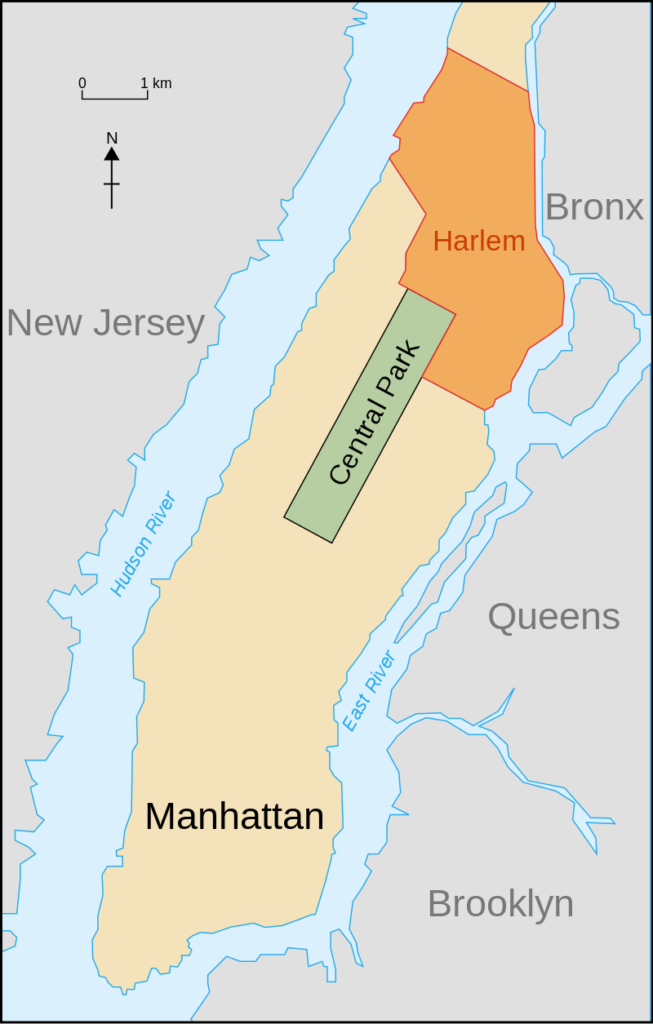 To the north of Central Park lies Harlem. Traditionally, this was an African American and Latin American part of town, although it also had italian and Jewish neighborhoods. It was poorer and more colurful than the rest of Manhattan …
Oggi però Harlem è molto più sicuro rispetto al passato (nelle guide viene sempre riportato di prestar maggior attenzione nello Spanish Harlem, dove il rischio di essere rapinato è più alto rispetto alle altre parti dell'isola).
Harlem è un grande centro culturale e commerciale degli Afro-americani. Il primo insediamento umano nel luogo che noi conosciamo come Harlem fu da parte degli olandesi, che lo chiamarono Nieuw Haarlem, in onore della città olandese di Haarlem. Per anni conosciuto come il quartiere più pericoloso, malfamato e decadente all'interno dell'isola di Manhattan, a partire dalla metà degli anni novanta del XX secolo il quartiere ha iniziato a cambiare faccia, grazie soprattutto alla volontà dei suoi abitanti decisi a cambiare la situazione in meglio. Un esempio in tal senso: The Next Big Arts Neighborhood: Harlem Rises (Again)
Passeggiare nel quartiere
Chi visita Harlem deve assolutamente concedersi una passeggiata in totale tranquillità tra le ampie strade alberate del quartiere, che sono costeggiate dalle classiche ed eleganti case a schiera, che di tanto in tanto si trovano accanto delle bellissime chiese storiche.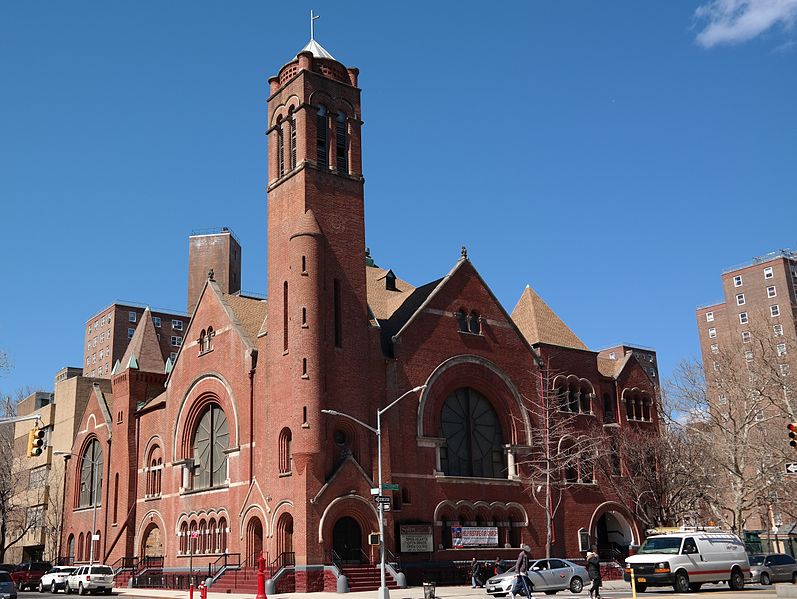 National Jazz Museum
E' il museo più importante di New York tra quelli dedicati alla storia della musica Jazz (scopri i migliori locali di jazz a New York). Nel quartiere afro americano per eccellenza degli USA non poiteva mancare il richiamo alla musica tipicamente americana ma frutto di una componente specifica della sua società che però è tipicamente ed esclusivamente americana. è un pò come il blues e la sua storia tra parentesi particolarissima. Diciamo che tutta bla musica statunitense che ha poi plasmato le tendenze musicali mopderne a livello planetario nasce dalla componente nera: il blues da cui discende più o meno tutto, il jazze, il rap e quanto altro. allo stesso tempo però è musica tipica del territorio americano. A parere mio questo è un museo da vedere e da accompagnare con qualche locale del luogo dove ascoltare musica jazz. Oppure assistere ad uno spettacolo al famoso (per i cultori del jazz) Apollo theater. Il miglior modo di assorbire cultura e non solo vedere pezzi di storia passata.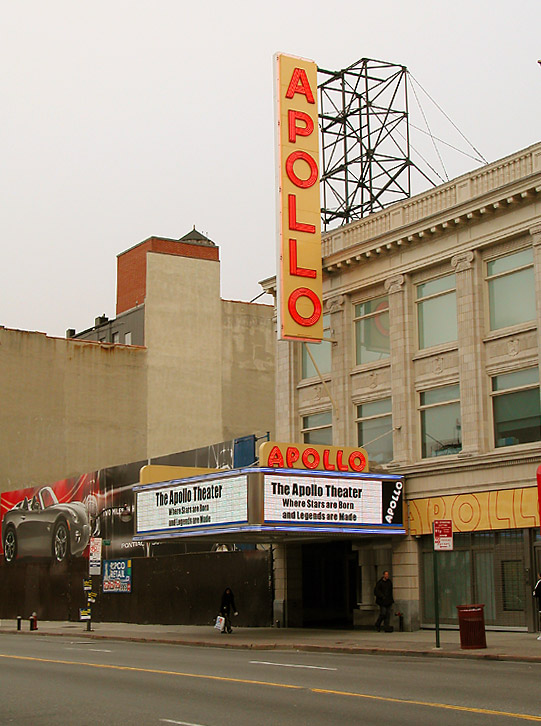 Il museo venne fondato nel 1997 da Leonard Garment e dal sassofonista jazz Abraham Sofaer. La missione del museo è quella di preservare, promuovere e presentare la musica jazz, ispirandone la conoscenza, l'apprezzamento e la celebrazione sia a livello locale che nazionale ed internazionale.
Il museo ospita inoltre spettacoli dal vivo, mostre e programmi educativi dedicati ad una vasta gamma di segmenti di pubblico. Dal 1 febbraio 2016 il museo ha sede a Central Harlem sulla 129th strada, in uno spazio espositivo di circa 175 metri quadrati.
Il museo insomma è museo, e teatro al tempo stesso. Non solo. Sembra dall'esterno un normale edificio di harlem e ciò lo rende anciora più gradevole, ti imemrge nella rtipica atmosfera.
SITOGRAFIA
Nota 1PP https://www.flickr.com/photos/daran_kandasamy/
Nota A3 https://pixabay.com/it/users/hnelson57-4421440/
Nota 2 https://it.wikipedia.org/wiki/File:Upper_West_Side_2007.jpg
Nota 7 https://commons.wikimedia.org/wiki/File:Central_Park_jogging.jpg
Nota S1 https://picryl.com/media/skating-scene-in-central-park-winter-1866-d94c1e
Nota S2 https://www.flickr.com/photos/47001638@N08/4716743046
Nota S3 https://www.flickr.com/photos/proimos/43454883071
Nota M https://pt.wikipedia.org/wiki/Maratona_de_Nova_York#/media/Ficheiro:New_York_marathon_Verrazano_bridge.jpg
Nota M2 https://www.flickr.com/photos/140988606@N08/28124471994
Nota M3 https://commons.wikimedia.org/wiki/File:New_York_City_Marathon.jpg
Nota C1 https://it.m.wikipedia.org/wiki/File:Southwest_corner_of_Central_Park,_looking_east,_NYC.jpg
Nota 44 https://www.flickr.com/photos/library_of_congress/14380823053
Nota 45 https://www.centralpark.com/events/ny-philharmonic-orchestra-concert-2019/
Nota GM https://it.m.wikipedia.org/wiki/File:NYC_-_Guggenheim_Museum.jpg
Nota MET https://www.flickr.com/photos/shinyasuzuki/
Nota MET1 https://commons.wikimedia.org/wiki/File:The_Metropolitan_Museum_of_Art.jpg
Nota H https://it.wikipedia.org/wiki/Harlem#/media/File:Location_of_Harlem.svg
Nota H2 https://www.flickr.com/photos/flissphil/5599696419
Nota H3 https://commons.wikimedia.org/wiki/File:Salem_United_Methodist_Church_Harlem_NYC.JPG
Nota AT https://it.wikipedia.org/wiki/Apollo_Theater#/media/File:Apollo_Theater,_Harlem_(November_2006).jpg
Nota JJ https://commons.wikimedia.org/wiki/File:Jazzmuseum.jpg